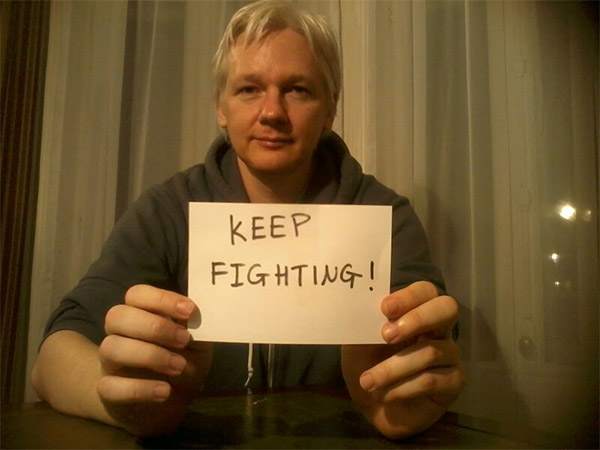 WikiLeaks
founder
Julian Assange
says he will not leave the
Ecuadorian Embassy
after Ecuador's foreign minister has said its embassy in London will continue to provide political asylum to Julian Assange.
He was staying in embassy for the past year to avoid
extradition
to Sweden. The Australian will be arrested if he steps outside the building, so the jet-set lifestyle has been replaced by a
single room
and his laptop.
Assange said he fears Sweden would allow him to be extradited to the United States to face potential charges relating to
WikiLeaks
releases of sensitive diplomatic and defense communications.
So as of tomorrow, he decided to spent one year inside the embassy, even if sex charges against him are dropped. "The strong view of my US lawyer is that there is already a sealed indictment which means I would be arrested, unless the British Government gave information or guarantees that would grant me safe passage," he said.
Assange claims that the extradition order is politically motivated and is actually linked to the leaks made by his anti-secrecy website against American and British governments.
"Our government will not hand Mr. Assange over to the UK government nor to anyone else, and we shall continue to stress that Mr. Assange has the right to benefit from asylum," Ecuador's foreign minister says.
Also readers should watch a lastest Documentry Movie based on Wikileaks, '
We Steal Secrets: The Story of WikiLeaks
'. F
ilm primarily focuses on Wikileaks' work in 2010 divulging classified material related to the U.S. wars in Iraq and Afghanistan.
The documents detailed U.S. mistakes in Iraq and Afghanistan.