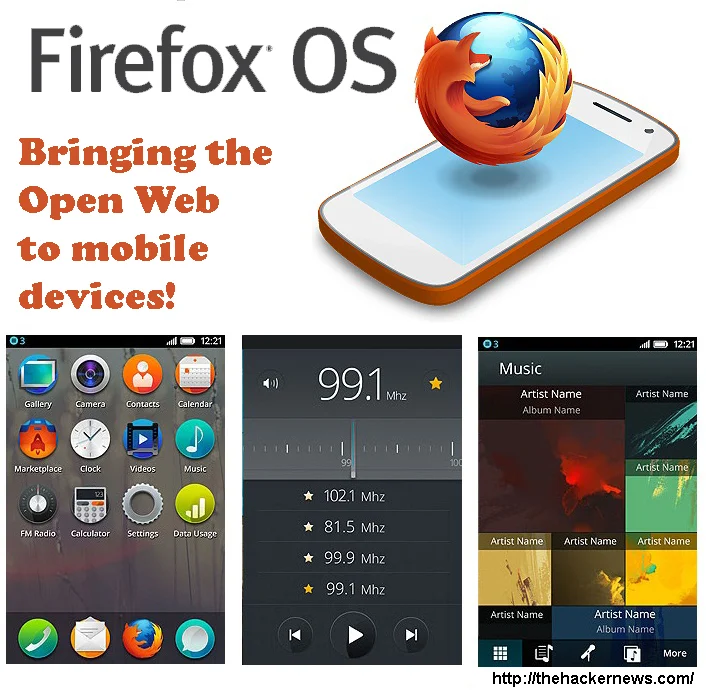 Mozilla's Firefox OS, the mobile operating system from the company that makes the Firefox browser build entirely on open web standards and having ability to beat Android or iOS.
Firefox OS
is Mozilla's ambitious attempt to build an operating system that brings more openness to the walled gardens of Apple's iOS and Google's Android.
New Operating Systems for Smartphones
Its a new mobile operating system built entirely using open web standards and with codename Boot to Gecko, means a Linux distro that automatically loads Gecko or in more simple words apps for Firefox OS are basically just websites written in HTML, JavaScript, and CSS. The Web is the Platform, which means not only taking down barriers, but also a lighter system that makes your apps run smoothly and an optimal battery life.
Firefox OS written with basic HTML, CSS, and JavaScript
Mozilla has also added some extra hooks to Firefox OS that allow developers to access a phone's hardware via HTML such as Battery info, Camera, Contacts, WebSMS, Storage, Vibration, Settings, Alarm, Browser, and many more. A large number of WebAPIs will be supported in the initial implementation of Firefox OS. A complete list can be
found here
.
Battling against other mobile platforms
Firefox OS will not be directly battling against other mobile platforms.
Firefox OS is a cutting-edge mobile operating system, designed to render the highest performance. Its main objective is to change the way the world develops mobile apps.
While some other mobile vendors such as Blackberry also provide ways to develop apps for their systems using HTML5, but
Mozilla is Mozilla!!
Easy, powerful and Open for
Developers
Firefox OS instantly promoted millions of web and JavaScript developers into app developers. Developers already know the browser environment and the tools, and there's no need to learn any new language or framework.
All they have to do is download a free
Firefox OS Simulator.
Everything Mozilla does is open so it is common knowledge that you can create your own Firefox OS build if you have a supported device.
Whereas in Apple's iOS and Google's Android platforms currently dominate the mobile space and rely heavily on developers to produce high-quality apps that increase and augment the functionality of their platforms.
In
stall Apps from Any Domain
In Firefox OS, there is incredibly liberating to allow installation from outside an app store. instead of needing to jump over to the device's app store app, Mozilla provides a
JavaScript API
for installing web apps from any allowed domains.
First Mobile Handsets with Firefox OS
The first test devices (Keon and Peak model) (
available for purchase
) with Firefox OS was developed by a Spanish smartphone start-up Geeksphone and Telefonica, one of the largest telecommunications companies in the world.
Enjoy Mobile freedom with Firefox OS!