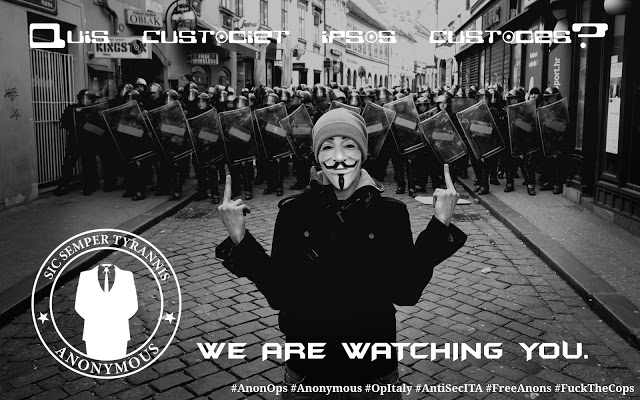 "
Anonymous group in Italy appears less active respect other countries, and this has misled those who have been victims of their attacks. Too much Italian security professionals consider the group as a disorganized collective unable to cause serious problems to the political reality of the country
."
Security Affairs
mention.
Hacker upload some sample folder which contains assorted material from the archives, like details about wiretaps from Telecom Italia and confidential technical information about interception devices. Information taken from state police servers and portals include police reports, mobile phone numbers, personal email, information on salaries, and soft-porn pictures, complete archive of more than 3500 private documents.
The complete dump is also available on a
FTP
. A spokesman for the Interior Ministry told
Reuters
that the police engineers are "checking" the published literature, and for the moment there are no statements.

Anonymous Italy gives details of the hack and dump:
For weeks, we love to browse in your server, in your email address, your portals, documents, records and much more.

We are in possession of a large amount of material, eg documents on interception systems, spreadsheets, bugs latest generation of covert activities, files related to the notav and dissidents; various circulars but also numerous e-mails, some of which demonstrate your dishonesty (eg a communication in which you explain how the weapon seized appropriarvi to a foreign man without committing the crime of receiving stolen goods).

The security level of your system, contrary to what we thought was really poor, and we take the opportunity to take our revenge. Is there any problem, Officer?
This is not the first time that Italy Anonymous hacker attacks against the police. In July 2011, the activists announced that they have seized Italian anti-crime agency files on different international organizations, for a total of more than 8 gigabytes, stored on the server of the National Center for Computer Crime Protection of Critical Infrastructures (CNAIPIC).