Wikileaks has
released
(
https://spyfiles.org/
) dozens of new documents highlighting the state of the once covert, but now lucrative private sector global surveillance industry. According to Assange, over 150 private sector organisations in 25 countries have the ability to not only track mobile devices, but also intercept messages and listen to calls also.
Site founder Julian Assange has held a press conference, revealing the secrets of the industry.­ The whistleblowing site has published some 287 documents from its huge database, collected from 160 international intelligence contractors. The database includes internal documents of such companies like Gamma corporation in the UK, Ipoque of Germany, Amesys and Vupen in France, VASTech in South Africa, ZTE Corp in China, Phoenexia in the Czech Republic, SS8 and Blue Coat in the US, among others.
From the press release:
"
The Wikileaks Spy Files reveal the details of which companies are making billions selling sophisticated tracking tools to government buyers, flouting export rules, and turning a blind eye to dictatorial regimes that abuse human rights.
"
"
Who here has a BlackBerry? Who here uses Gmail? Well you are all screwed!" Assange exclaimed. "The reality is intelligence contractors are selling right to countries around the world mass surveillance systems for all of those products
."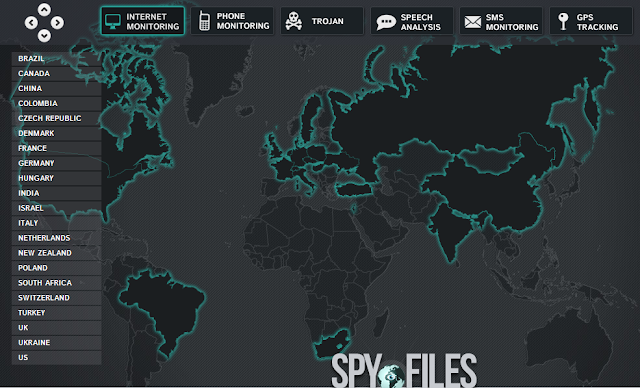 "
Today we release over 287 files documenting the reality of the international mass surveillance industry – an industry which now sells equipment to dictators and democracies alike in order to intercept entire populations
" Assange told reporters.
Another leaked document from 2011
shows how one UK firm is depended upon by the government, including "
law enforcement agencies, intelligence and military agencies & special forces
". Such technologies can be "
integrated into bespoke solutions for static, tracking and mobile overt and covert surveillance
".
The UK, one of the most surveilled countries in the world, with more CCTV cameras per person than any other major city, is one of the most prevalent in Internet monitoring, phone and text messaging analysis, GPS tracking and speech analysis technologies. Last month, it was found that Leeds-based company Datong plc. sold phone tracking and remote-disability technology to Scotland Yard, home of London's Metropolitan Police, which could then be used to track protestors or disable remotely shut-off mobile phones en masse.
Wikileaks recently celebrated the first anniversary of the controversial publication of US diplomatic cable leaks a publication that made Julian Assange a household name.Assange is currently under house arrest in London, where he is planning to launch an appeal against the recent ruling of a British court, which decided to extradite the journalist to Sweden, where he is accused of sexually harassing two women. Assange fears that his extradition to Sweden may eventually end up being one to the United States and will be appealing the ruling once again next Monday.