WebCookiesSniffer

- New cookies sniffer/viewer utility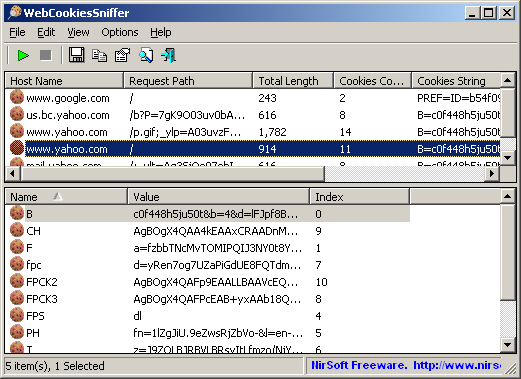 WebCookiesSniffer is a new packet sniffer utility that captures all web site cookies sent between the web browser and the web server and displays them in a simple cookies table. The upper pane of WebCookiesSniffer displays the cookie string and the web site/host name that sent or received this cookie. When selecting a cookie string in the upper pane, WebCookiesSniffer parses the cookie string and displays the cookies as name-value format in the lower pane.
Except of a capture driver needed for capturing network packets, WebCookiesSniffer doesn't require any installation process or additional dll files. In order to start using it, simply run the executable file - WebCookiesSniffer.exe
After running WebCookiesSniffer in the first time, the 'Capture Options' window appears on the screen, and you're asked to choose the capture method and the desired network adapter. The next time you use WebCookiesSniffer, it'll automatically start capturing packets with the capture method and the network adapter that you previously selected. You can always change the 'Capture Options' again by pressing F9. After choosing the capture method and network adapter, WebCookiesSniffer captures and displays every cookie found in the data sent between your web browser and the remote web server.
Download WebCookiesSniffer (32-bit version)
Download WebCookiesSniffer (x64 version)