Matriux Krypton security distribution Released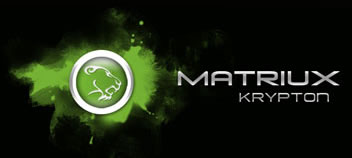 The Matriux is a fully featured security distribution consisting of a bunch of powerful, open source and free tools that can be used for various purposes including, but not limited to, penetration testing, ethical hacking, system and network administration, cyber forensics investigations, security testing, vulnerability analysis, and much more. It is a distribution designed for security enthusiasts and professionals, although it can be used normally as your default desktop system.
With Matriux, you can turn any system into a powerful penetration testing toolkit, without having to install any software into your hardisk. Matriux is designed to run from a Live environment like a CD / DVD or USB stick or it can easily be installed to your hard disk in a few steps. Matriux also includes a set of computer forensics and data recovery tools that can be used for forensic analysis and investigations and data retrieval.
Current features Matriux Krypton:
Very own kernel 2.6.39 compiled with a greater support and stability., yes we mean it !
More than 300 security tools, however quality is given priority than the quantity.
Forensics are not neglected , given an equal importance.
The very first security distribution based directly on Debian
More stable
More swift and easy
Very own installer for easy installation of the Live CD. ( MID)
Build update tool MUT ( Matriux Update tool).
Lighter and better desktop environment with Gnome. ( LXDE to soon follow)
Simple, however strong and elegant!
Applications from Matriux team that help you in hacking!!
Download Matriux Krypton