Update :

Latest Hack by TiGER-M@TE : 700,000 sites on Inmotion Hosting Server hacked in one shot
On the morning of Saturday, Jan 8, 2011 the biggest news of cyber world was -
Google Bangladesh website (Google.com.bd) Hacked by TiGER-M@TE
. TiGER-M@TE is a Bangladeshi Hacker, He was already connected to "The Hacker News" from last 2-3 months for providing his Hacks News ! Finally we take a small interview of this great Hacker, who make Google Down !!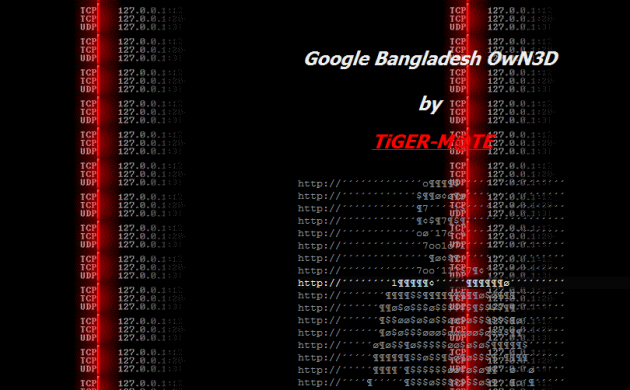 Unix Root - Tell us Some Introduction about you.
TiGER-M@TE -
Me TiGER-M@TE , nationality Bangladeshi. I've Been hacking since 2007 and I work alone.I like to exploit servers rather than exploiting web application and I use only 0days and private exploits.
Unix Root - Do you Hack Google on Jan 8, 2011 and Why ?
TiGER-M@TE - I've hacked not only Google but also local domain of Yahoo, Avast, Microsoft, Bing, Nokia and Kaspersky.
Unix Root - How you Hack google ? plz mention the method,Lots of Hackers wanna know this.
TiGER-M@TE - Well,it was a DNS hijack actually,NOT dns poison.
Unix Root - Is there any damage u done to any file or take backup of anything from Google ?
TiGER-M@TE - Since it was a DNS hijack so no damage to actual server of those websites.
Unix Root - Are you sure that you will be safe after this hack ? and how ?
TiGER-M@TE - Its actually depends on dumbness of BTCL.And i dont give a damn about trace thing.
Unix Root - What else big hacks you do ?
TiGER-M@TE - About big hacks ?...i'm the man who hacked Airtel, Warid, Amreican express.
Unix Root - Any msg to your fans and followers !
TiGER-M@TE - All i can say to my fans,"try to write your own code, rather than using someone else's code and exploits.This will help you to gain whatever you want and before doing things, know every stuffs and how those things work.Hacking is all about Knowledge and skills."
His Zone-H link is
https://www.zone-h.org/archive/notifier=TiGER-M@TE
Thank you TiGER-M@TE for such beautiful response ! God Bless :)
News Source : TiGER-M@TE
Update :
Latest Hack by TiGER-M@TE : 700,000 sites on Inmotion Hosting Server hacked in one shot