The emergence of the scourge called cyber-crime that transcends man-made boundaries has brought upon law enforcing agencies the dire need to cooperate globally to prevent and solve such crimes, a senior Dubai Police official has said.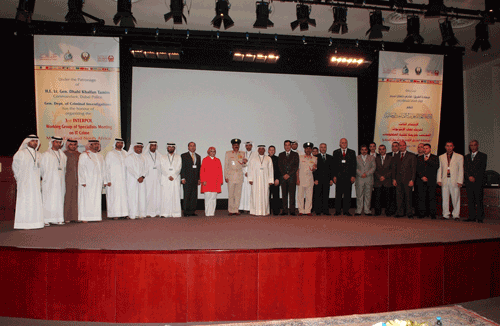 In his presentation at the Third International Conference on Interpol for Middle East and North Africa, Major General Khamis Mattar Al Mazeina, Dubai Police Deputy Commander-in-Chief said it was international cooperation that help Dubai arrest a child molester accused for crimes in a European country while the man was in the UAE.
He said Dubai Police has made great strides on the cyber-crime front after setting up a dedicated department to solve high-tech crimes that emerged with the technology-driven growth that the world was witnessing.
He told the gathering attending the conference in Dubai Police Academy Interpol's interest in harnessing resources of global police forces stems from the fact that cyber-crime has tentacles that reach far and wide.
While the global internet network can be used or misused to transfer money within seconds across the world, the same technology can also be used to send or receive money from extortion rackets.
The economic importance of the UAE and Dubai necessitated the establishment of an economic crimes department that works in coordination with the departments of economic development, customs and banks.
On the progress made in solving cyber-crimes, Al Mazeina said Dubai Police managed to solve two such crimes. While it arrested a man who blackmailed women by hacking into their e-mail accounts and stealing their pictures, a hacker who wreaked havoc by hacking the website of a financial company that suffered major losses due to the incident was brought to book, he said.
The police managed to attract the right talent to tackle such hi-tech crimes that stems from the reality of a new generation that is attuned to technology, he said.
Major Saeed Al Hajri, Director of the Electronic Crimes of Dubai Police said the department was trying to raise awareness of cyber-crimes like forgery, and crimes involving credit cards whose details are hacked.
Ali Qubaisi, Mena team leader of Interpol cyber-crimes in the Gulf region are mainly defamation, extortion and financial fraud using the internet. This is besides the crimes that contravene the Islamic and Arabic culture.
He stressed the need to be flexible on legislations that need to keep pace with the evolution of electronic crimes.
Jamie Inestazi, Interpol's deputy chief in the fight against financial and cyber crimes said electronic crimes are mainly two-pronged. While one is based on the internet, the other is piracy. This calls for cooperation and exchange of information, he said.
Representatives from countries in the Mena region shared their insights and experiences at the two-day conference.