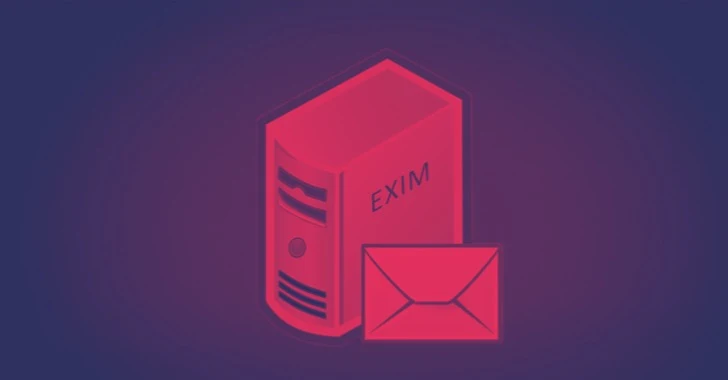 A critical remote code execution vulnerability has been discovered in the popular open-source Exim email server software, leaving at least over half a million email servers vulnerable to remote hackers.
Exim maintainers today released Exim version 4.92.2 after publishing an early warning two days ago, giving system administrators a
heads-up
on its upcoming security patches that affect all versions of the email server software up to and including then-latest 4.92.1.
Exim is a widely used, open source mail transfer agent (MTA) software developed for Unix-like operating systems such as Linux, Mac OSX or Solaris, which runs almost 60% of the internet's email servers today for routing, delivering and receiving email messages.
Tracked as
CVE-2019-15846
, the security vulnerability only affects Exim servers that accept TLS connections, potentially allowing attackers to gain root-level access to the system "by sending an SNI ending in a backslash-null sequence during the initial TLS handshake."
SNI, stands for Server Name Indication, is an extension of the TLS protocol that allows the server to safely host multiple TLS certificates for multiple sites, all under a single IP address.
According to the Exim team, since the vulnerability doesn't depend on the TLS library being used by the server, both GnuTLS and OpenSSL are affected.
Moreover, though the default configuration of the Exim mail server software doesn't come with TLS enabled, some operating systems bundled the Exim software with the vulnerable feature enabled by default.
The vulnerability was discovered by an open source contributor and security researcher who goes by the online alias Zerons and analyzed by cybersecurity experts at Qualys.
Just three months ago, Exim also patched a severe remote command execution vulnerability, tracked as CVE-2019-10149, that was actively exploited in the wild by various groups of hackers to compromise vulnerable servers.
The Exim advisory says that a rudimentary proof of concept (PoC) exists for this flaw, but currently there is no known exploit available to the public.
Server administrators are highly recommended to install the latest Exim 4.92.2 version immediately, and if not possible, can mitigate the issue by not allowing unpatched Exim servers to accept TLS connections.
The team says, "If you can't install the above versions, ask your package maintainer for a version containing the backported fix. On request and depending on our resources we will support you in backporting the fix."