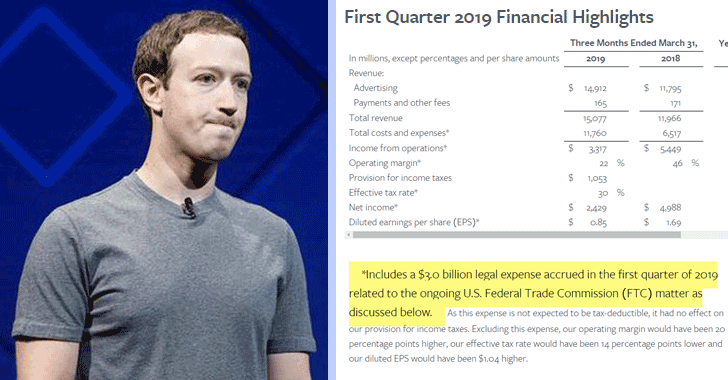 Facebook expects to face a massive fine of up to $5 billion from the Federal Trade Commission (FTC) as the result of an investigation into its privacy policies—that's about one month's revenue for the social media giant.
To be clear the amount of fine is not what the FTC has announced or hinted yet; instead, it's an estimated due that Facebook disclosed on Wednesday in its
first quarter 2019
financial earnings report.
In its earnings report, Facebook said the company had set $3 billion aside in anticipation of the settlement with the FTC, who launched a probe into Facebook following the
Cambridge Analytica scandal
.
The probe centers around the violation of a 2011 agreement Facebook made with the FTC that required the social media to gain explicit consent from users to share their data.
The FTC launched an investigation into Facebook last year after it was revealed that the company allowed Cambridge Analytica
access to the personal data
of around
50 million Facebook users
without their explicit consent.
Now, both parties are nearing a settlement, with Facebook anticipating the fine to between $3 billion and $5 billion.
"In the first quarter of 2019, we reasonably estimated a probable loss and recorded an accrual of $3.0 billion in connection with the inquiry of the FTC into our platform and user data practices," Facebook said in its earnings report.
"We estimate that the range of loss in this matter is $3.0 billion to $5.0 billion. The matter remains unresolved, and there can be no assurance as to the timing or the terms of any final outcome," Facebook noted.
If Facebook agrees, the fine will be a record for the FTC, which has never imposed such a massive fine on any tech company till the date and represents one month's revenue for the social media giant.
UK's Information Commissioner Office (ICO) has also imposed
£500,000 fine on Facebook
over the Cambridge Analytica scandal.
The FTC fine on Facebook will also surpass the $22.5 million civil penalties Google paid in 2012 to settle FTC charges for allegedly violating an agreement to improve privacy practices.
Despite all criticisms Facebook have recently faced over its
mishandling of users' data
, Facebook earning and the user base is continually increasing, with the company bringing in more than $15 billion in revenue the first quarter of 2019 alone. It also added 39 million daily active users to its platform.