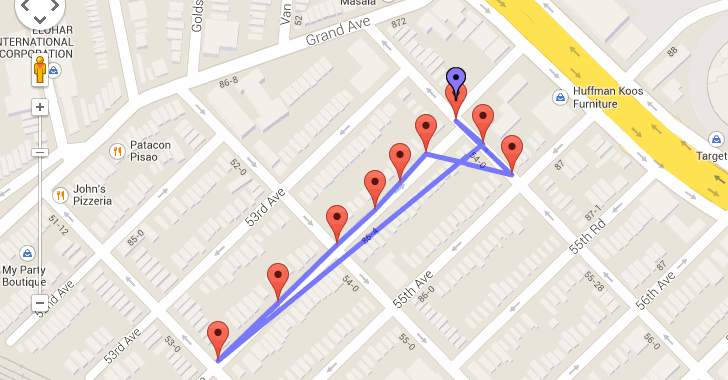 Google was in the news last week for a misleading claim that "with Location History off, the places you go are no longer stored," which is not true.
Now, the search engine giant is once again in the news after a San Diego man has filed the first lawsuit against Google over this issue.
Last week, the Associated Press investigation revealed that the search engine giant
tracks movements of millions
of iPhone and Android device users, even if they have disabled the "Location History" setting to prevent it.
However, it turned out that to fully opt-out of having your location activities stored by Google, you also have to disable the 'Web and App Activity' control as well, about which the company has mentioned deep into its product documentation.
In response to the AP investigation, Google defended itself by saying, "there are a number of different ways that Google may use location to improve people's experience," and that "we provide clear descriptions of these tools, and robust controls so people can turn them on or off, and delete their histories at any time."
On Friday, the company even slightly
changed
its location policy, making it clear that even after turning off the Location History option, some Google services would continue collecting location information on you.
Previously, the support page stated: "With Location History off, the places you go are no longer stored."

Now the page states: "This setting does not affect other location services on your device," and that "some location data may be saved as part of your activity on other services, like Search and Maps."
However, the same day Napoleon Patacsil from San Diego filed a lawsuit against Google in San Francisco federal court for violating users' privacy by monitoring and storing their movements.
The lawsuit, which could potentially affect millions of users, is seeking class-action status on behalf of Android and iPhone users in the United States, who had turned off Location History on their iPhones and Android devices yet were still tracked by Google.
Patacsil alleges that Google is in violation of California's Invasion of Privacy Act and constitutional right to privacy by tracking the location of users when they used a privacy setting on their device to prevent it, for which he is seeking unspecified damages.
"Google expressly represented to users of its operating system and apps that the activation of certain settings will prevent the tracking of users' geolocations. This representation was false," the lawsuit states.
"Despite users' attempts to protect their location privacy, Google collects and stores users' location data, thereby invading users' reasonable expectations of privacy, counter to Google's own representations about how users can configure Google's products to prevent such egregious privacy violations."
In addition to damages, Patacsil also seeks a court order demanding that Google destroy all data stored from its geo-location tracking service of the plaintiff and class members.
Patacsil said the company's "principal goal" was to "surreptitiously monitor" smartphone users and allow third parties to do the same.
The man also claimed that Google illegally tracked him on his Android phone and then on his iPhone, where he had downloaded some Google apps.
Besides the lawsuit, attorneys from the Electronic Privacy Information Center also wrote a three-page letter to the Federal Trade Commission (FTC), saying that Google's "deceptive trade practice" is in clear violation of the 2011 settlement with the agency.
"Google is not permitted to track users after they have made clear in their privacy settings that they don't want to be tracked," the letter reads.

"The FTC's failure to enforce its Consent Orders places American consumers at risk. The Commission's inactions have made the Internet less safe and less secure for users and consumers."
In the FTC settlement, Google agreed to not misrepresenting its practices related to (1) the purposes for which it collects and uses covered information, and (2) the extent to which consumers may exercise control over the collection, use, or disclosure of covered information."
Google has not yet responded about the filing of the lawsuit.