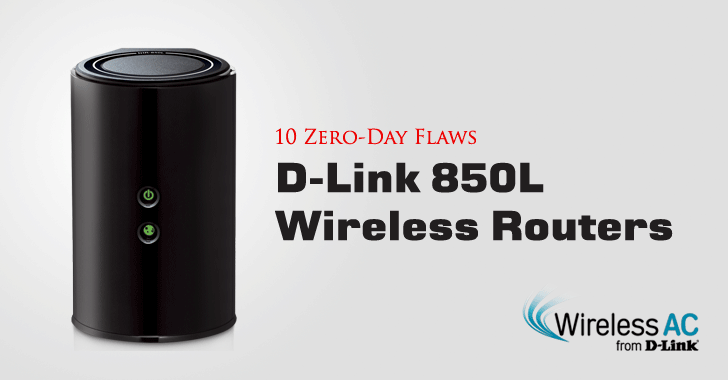 A security researcher has discovered not one or two but a total of ten critical zero-day vulnerabilities in routers from Taiwan-based networking equipment manufacturer D-Link which leave users open to cyber attacks.
D-Link DIR 850L wireless AC1200 dual-band gigabit cloud routers are vulnerable to 10 security issues, including "several trivial" cross-site scripting (XSS) flaws, lack of proper firmware protection, backdoor access, and command injection attacks resulting in root access.
If successfully exploited, these vulnerabilities could allow hackers to intercept connection, upload malicious firmware, and get root privileges, enabling them to remotely hijack and control affected routers, as well as network, leaving all connected devices vulnerable to cyber attacks as well.
These zero-day vulnerabilities were discovered by
Pierre Kim
—the same security researcher who last year discovered and reported
multiple severe flaws in D-Link
DWR-932B LTE router, but the company ignored the issues.
The same happened in February, when the researcher
reported
nine security flaws in D-Link products but disclosed the vulnerabilities citing a "very badly coordinated" disclosure with D-Link.
So, Kim opted to publicly disclose the details of these zero-day flaws this time and published their details without giving the Taiwan-based networking equipment maker the chance to fix them.
Here's the list of 10 zero-day vulnerabilities affect both D-Link 850L revision A and revision B Kim discovered:
Lack of proper firmware protection—since the protection of the firmware images is non-existent, an attacker could upload a new, malicious firmware version to the router. Firmware for D-Link 850L RevA has no protection at all, while firmware for D-Link 850L RevB is protected but with a hardcoded password.
Cross-site scripting (XSS) Flaws—both LAN and WAN of D-Link 850L RevA is vulnerable to "several trivial" XSS vulnerability, allowing an attacker "to use the XSS to target an authenticated user in order to steal the authentication cookies."
Retrieve admin passwords—both LAN and WAN of D-Link 850L RevB are also vulnerable, allowing an attacker to retrieve the admin password and use the MyDLink cloud protocol to add the user's router to the attacker's account to gain full access to the router.
Weak cloud protocol—this issue affects both D-Link 850L RevA and RevB. MyDLink protocol works via a TCP tunnel that use no encryption at all to protect communications between the victim's router and the MyDLink account.
Backdoor Access—D-Link 850L RevB routers have backdoor access via Alphanetworks, allowing an attacker to get a root shell on the router.
Private keys hardcoded in the firmware—the private encryption keys are hardcoded in the firmware of both D-Link 850L RevA and RevB, allowing to extract them to perform man-in-the-middle (MitM) attacks.
No authentication check—this allows attackers to alter the DNS settings of a D-Link 850L RevA router via non-authenticated HTTP requests, forward the traffic to their servers, and take control of the router.
Weak files permission and credentials stored in cleartext—local files are exposed in both D-Link 850L RevA and RevB. In addition, routers store credentials in clear text.
Pre-Authentication RCEs as root—the internal DHCP client running on D-Link 850L RevB routers is vulnerable to several command injection attacks, allowing attackers to gain root access on the affected devices.
Denial of Service (DoS) bugs—allow attackers to crash some daemons running in both D-Link 850L RevA and RevB remotely via LAN.
Kim advised users to cut the connections with the affected D-Link router in order to be safe from such attacks.
According to Kim, "the Dlink 850L is a router overall badly designed with a lot of vulnerabilities. Basically, everything was pwned, from the LAN to the WAN. Even the custom MyDlink cloud protocol was abused."
You can get full details of all 10 zero-day vulnerabilities on
Kim's website
as well as on security mailing lists.
The security of D-Link products has recently been questioned when the U.S. Federal Trade Commission,
FTC sued the company
earlier this year, alleging that the lax security left its products and therefore, "thousands of consumers" vulnerable to hackers.