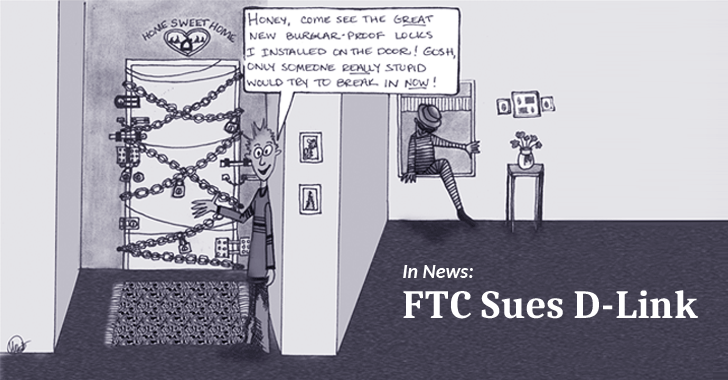 Image Source: Book - Protect Your Windows Network from Perimeter to Data
The United States' trade watchdog has sued Taiwan-based D-link, alleging that the lax security left its products vulnerable to hackers.
The Federal Trade Commission (FTC) filed a lawsuit (
pdf
) against D-Link on Thursday, arguing that the company failed to implement necessary security protection in its routers and Internet-connected security cameras that left "thousands of consumers at risk" to hacking attacks.
The move comes as cyber criminals have been hijacking poorly secured internet-connected devices to launch massive DDoS attacks that can force major websites offline.
Over two months back, a nasty IoT botnet, known as Mirai, been found infecting routers, webcams, and DVRs built with weak default passwords and then using them to DDoS major internet services.
The popular Dyn DNS provider was one of the victims of Mirai-based attack that knocked down the whole internet for many users.
To combat this issue, on the one hand, the popular networking equipment provider
Netgear has launched a bug bounty program
, inviting researchers and hackers to find and responsibly report security flaws in its hardware, mobile apps, and APIs for cash rewards ranging from $150 to $15,000.
But on the other hand, D-Link has been accused of several FTC Act violations, including:
Falsification about security in its router and IP camera user interfaces and promotional materials.
Falsely claiming that reasonable measures have been taken to protect its devices against well-known and easily preventable security flaws, like "hard-coded" user credentials and command injection flaws, which would allow any remote attacker to gain unauthorized access to its devices.
Failure to secure its software.
According to the complaint filed in San Francisco federal court, D-Link's insecure products allowed hackers to "monitor a consumer's whereabouts to target them for theft or other crimes."
Several security researchers and hackers found serious flaws in D-Link products over the past year, and while some were satisfied with the company addressing the issue, others disclosed unpatched flaws due to its failure to release firmware updates in time.
In response to the complaint, D-Link released a
statement
saying that the charges brought against it are "unwarranted and baseless" and that the company will "vigorously defend itself."
The FTC "fails to allege, as it must, that actual consumers suffered or are likely to suffer actual substantial injuries," D-Link added.
Due to rise in the IoT threat, the Commission is taking desired steps to protect the Internet-of-Things devices.
The FTC introduced guidelines back in 2015 to (or "intending to") securing IoT devices, and recently it also launched a "prize competition" for public with the aim to find some
technical solution for securing IoT devices
. The winner of the contest will get $25,000 prize money.