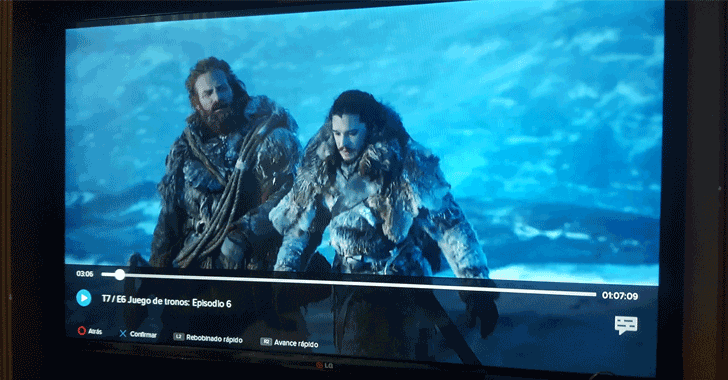 HBO doesn't need hackers to leak its widely watched "
Game of Thrones
" episodes, as it is sufficient enough to leak them by its own.
In what seems to be a terrible blunder, HBO Spain appeared to have accidentally broadcast the next episode—
Episode 6
—of Game of Thrones season 7 five days before its official premiere.
And as expected, the GoT episode 6 quickly began circulating online.
HBO has recently been facing trouble from a hacker or group of hackers who claimed to have obtained nearly 1.5 terabytes of information from the entertainment company.
Late last month, the unknown hackers
dropped upcoming episodes
of "Ballers" as well as "Room 104," along with a script of the fourth episode of "Game of Thrones" on the internet.
The leak was followed by another dump of a half-gigabyte sample of stolen HBO data, including HBO's emails, employment agreements, and balance sheets, along with the script of the upcoming Game of Thrones episode, demanding a ransom—nearly
$6 Million in Bitcoins
.
A recently leaked screenshot of an email from an HBO executive also suggested that the company
offered hackers $250,000
and requested them to extend the ransom payment deadline by one week.
Sadly, the proposal apparently failed to satisfy the desires of HBO hackers, and they threatened to release more data from its 1.5 terabytes of stolen data every Sunday until the complete ransom of millions of dollars was paid.
However, the recent leak has nothing to do with hackers, and rather the new unreleased episode was accidentally broadcast by HBO Nordic in Spain for about an hour before it was removed, first
spotted
by Reddit users.
The new GOT episode was purportedly available via the HBO's Spanish on-demand service.
Here's what HBO has to
say
about the latest leak:
"We have learned that the upcoming episode of Game of Thrones was accidentally posted for a brief time on the HBO Nordic and HBO España platforms."
"The error appears to have originated with a third-party vendor, and the episode was removed as soon as it was recognized. This is not connected to the recent cyber incident at HBO in the US."
Short footage and GIFs from the GOT S07E06 was started circulating on YouTube, Reddit, Instagram, Twitch and other streaming services.
The episode 6 of "Game of Thrones" will officially be premiered on Sunday at 9 p.m. on HBO.