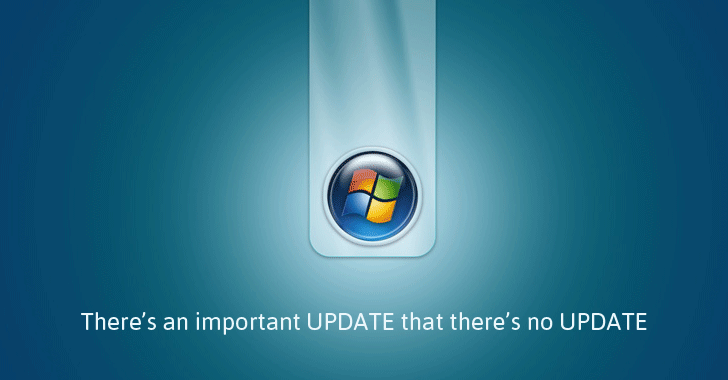 You might have heard the latest news about Microsoft blocking new security patches and updates for Windows 7 and Windows 8.1 users running the latest processors from Intel, AMD, Qualcomm, and others.
Don't panic, this new policy doesn't mean that all
Windows 7 and 8.1
users will not be able to receive latest updates in general because Microsoft has promised to
support Windows 7 until 2020
, and Windows 8.1 until 2023.
But those who have upgraded their machines running older versions of Windows to the latest processors, or manually downgraded their new laptops to run Windows 7/8.1 would be out of luck.
A recently
published
Microsoft Knowledge Base article suggests that if you are running the older version of operating systems on your computers that feature new processors, including Intel's 7th generation Core i3, i5 and i7 ("Kaby Lake"), AMD Ryzen ("Bristol Ridge") and Qualcomm 8996 chips or later, the security updates will not install.
Instead, you will see error messages when using Windows Update to get patches for Windows 7 and Windows 8.1. The error messages read:
"Unsupported Hardware.

Your PC uses a processor that is not supported on this version of Windows, and you will not receive updates."
"Windows could not search for new updates. An error occurred while checking for new updates for your computer. Error(s) found: Code 80240037 Windows Update encountered an unknown error."
So, What's the Solution ? (According to Microsoft)
Users would require upgrading their systems to the newest version of Windows, i.e.
Windows 10
, despite Windows 7 being supported to 2020 and Windows 8.1 to 2023.
Microsoft announced this limitation in January 2016, when the company said making Windows 7 and Windows 8.1 OSes run on the latest processors was "challenging."
"For Windows 7 to run on any modern silicon, device drivers and firmware need to emulate Windows 7's expectations for interrupt processing, bus support, and power states- which is challenging for WiFi, graphics, security, and more," Terry Myerson, VP of Microsoft's Windows and Devices Group,
said
last year.
The initial announcement also included PCs that use 6th-generation Intel processors ("Skylake"), but Microsoft backed off on its plan and
released
a list of Skylake-based systems that will be fully supported to receive security updates through the official end of support phase for Windows 7 and Windows 8.1, i.e. January 14, 2020, and January 10, 2023, respectively.
Microsoft Indirectly forcing users to adopt Windows 10
This end of updates for new devices doesn't come as a surprise to some PC owners, as Microsoft is making every
effort to run its latest Windows
on all Windows computers since the launch of Windows 10.
An alarm for those still running Windows Vista on their machines: The operating system will no longer receive security updates, non-security hotfixes, paid assisted supports, or online technical updates from Microsoft
beginning April 11
, 2017.
So, it's high time for Windows Vista users to upgrade their PCs to the latest version of Windows operating system in order to protect your devices from malware or other security threats.
Ditch Windows for Linux; Try This:
No doubt Windows 10 has been viewed as a welcome successor to Windows 8, both by businesses and individuals, with more enhanced security features. But the OS has also come under scrutiny from those who are concerned about their privacy.
So why not switch to a free Windows 10 alternative? Privacy concerned people can move to Linux operating systems, such as
Ubuntu
– a Debian-based OS and part of open source Linux family, and Fedora – Red Hat's Linux distro with estimated 1.2 Million users.