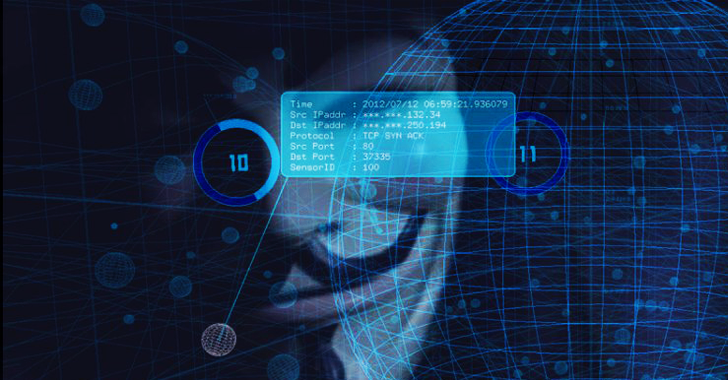 Dark Web is right now going through a very rough time.
Just two days ago, a hacker group affiliated with Anonymous broke into the servers of Freedom Hosting II and took down more than 10,000 Tor-based .onion dark websites with an alarming announcement to its visitors, which said:
"
Hello, Freedom Hosting II, you have been hacked.
"
Freedom Hosting II is the single largest host of underground websites accessible only through Tor anonymising browser that hosts somewhere between 15 and 20 percent of all sites on the Dark Web, anonymity and privacy researcher Sarah Jamie Lewis
estimated
.
Besides defacing all Dark Web sites hosted on Freedom Hosting II with the same message and stealing its database, the hackers also demanded a ransom for 0.1 Bitcoin (just over $100) to return the compromised data to the hosting service.
Now, it has been reported that the stolen database from Freedom Hosting II has publicly been released online to a site hosted on the Tor network, which includes the email details of nearly 381,000 users, 'Have I Been Pwned'
tweeted
.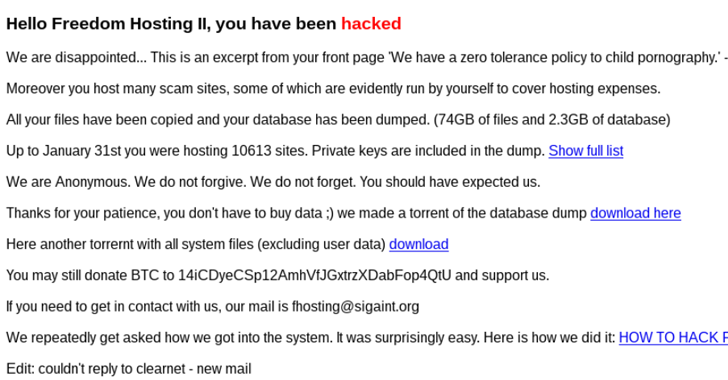 According to the Anonymous hackers, more than 50 percent of all files hosted on Freedom Hosting II servers were related to child pornography.
Those illegal websites were using gigabytes of data when Freedom Hosting II officially allows no more than 256MB per site, the Anonymous hacker claimed.
In addition to dark sites user details, the data dump also contains backups of website database, most of which are based on popular, free, open source content management systems and forums like WordPress and PHPBB.
In an
interview
with Motherboard, an Anonymous hacker who claimed responsibility for the hack said this was his first hack ever, and he never intended to take down the hosting provider.
But when he allegedly discovered several large child pornography websites using more than Freedom Hosting II's stated allowance, he decided to take down the service. The hacker claimed to have downloaded 74GB of files and a users database dump of 2.3GB.
Lewis has been analyzing the leaked data and reported that the database contains Dark Web users' numerous plain text emails, usernames, and hashed passwords from forum websites hosted by Freedom Hosting II.
While it's bad news for users who joined one of those forums providing their genuine personal details, law enforcement would be happy, as in a separate case, the FBI used location-tracking malware to infiltrate Dark Web porn sites and track individual users.