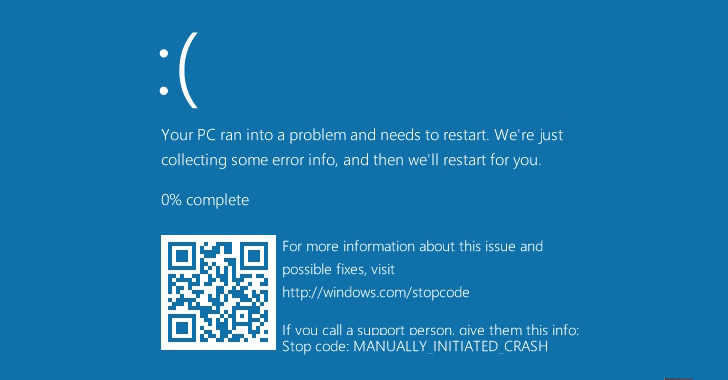 If you are a Microsoft's Windows user, you may have encountered the infamous
Blue Screen of Death (BSOD)
.
The Blue Screen of Death generally appears when Windows encounters any critical error due to software or hardware issues, displaying a sad face and no information other than "Your PC ran into a problem."
However, now the company is apparently giving its infamous Blue Screen of Death a makeover.
With the Microsoft's Anniversary Update, the company is making the Blue Screen of Death a little helpful for its users.
Microsoft is adding QR code to its Blue Screen of Death (BSOD) in Windows 10 that will make it easier for users to identify potential issues with their devices.
The new QR codes are
featured
in the Redmond's latest Windows 10 Preview, Build 14316, which will debut this summer as the Windows 10 Anniversary Update.
Now, when your operating system fails, you will see not just a sad face, but a QR code that would be helpful in two ways:
You would be able to scan this code with your smartphone and be directed to a Web page that could include the details on the encountered error.
You could also call Microsoft support to figure out the problem by determining the source of the bug based on the specific QR code and even help you troubleshoot or fix it.
Though the change is not groundbreaking one, it will surely benefit millions of Windows 10 users whose hearts stop for a while when their screen goes blue.
The BSOD QR codes are expected to come out this summer when Microsoft releases the Windows 10 Anniversary Update.
How many of you think the BSOD QR codes would be useful?
Let me know in the comments below.