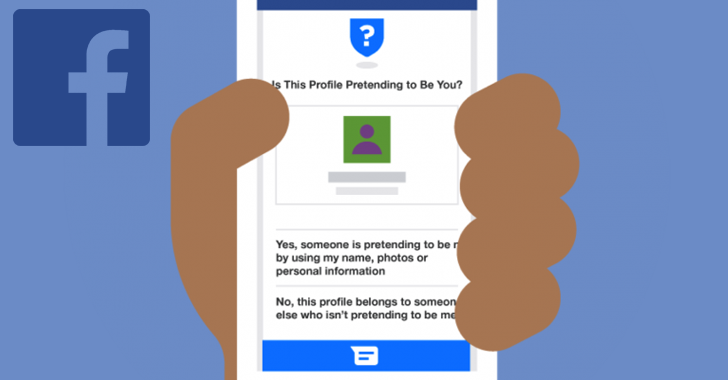 Online harassment has been elevated a step with the advent of popular social networks like Facebook.
Cyber stalkers create fake profiles impersonating other Facebook users and start doing activities on their behalf until and unless the owners notice the fake profiles and manually report it to Facebook.
Even in some cases, cyber stalkers block the Facebook account holders whom they impersonate in order to carry out mischievous tasks through fake profiles without being detected by the actual account holders.
But now, online criminals can no longer fool anyone with impersonation method, as Facebook is currently working on a feature that automatically informs its 1.6 Billion user base about the cloned accounts.
If the company detects a duplicate Facebook account of a user, it will automatically send an alert to the original account holder, who'll be prompted to identify if the profile in question is indeed a fake profile impersonating you or if it actually belongs to someone else.
How would Facebook identify the Clone Profiles?
The new feature would reportedly inform Facebook users about their cloned accounts when it finds a perfect match of both profile pictures and profile names.
However, it seems like Facebook would use its one of the world's best face recognition technologies to identify users' fake profiles.
While uploading a group pic of you with your friends, you might have noticed how Facebook automatically detects your friend's face and suggests the correct names without manually feeding into it.
This face recognition technology could be utilized by Facebook's new feature that eliminates the chance of profile duplication and ends up the doppelganger business.
Here you might be thinking that if 2 accounts are made identical, then how would Facebook identify the legit user? Right?
This difference would be decided by Facebook's core security team by analyzing and comparing the user's activities and date of account creation.



But one question still remains in my head:

If Facebook identifies the difference on the basis of account creation, then What if someone creates a fake profile of a user, who hasn't joined the network yet?

Okay, if Facebook cannot stop this, as the company can not compare the fake user to the original user, who doesn't exist on its platform.

But what if the user joins the network later? Then in this case, Facebook would notify to whom? The stalker who owns the fake profile, as it was created first?

I have already reached out to Facebook for a comment and will update the article as soon as I get to hear from it.
Why is Impersonation Dangerous?
According to the Facebook Head of Global Safety Antigone Davis, impersonation is a source of harassment, particularly for women, on the social media platform, despite Facebook's longstanding policy against it.
"We heard feedback [before] the roundtables and also at the roundtables that this was a point of concern for women," Davis told

Mashable

. "It's a real point of concern for some women in certain regions of the world where [impersonation] may have certain cultural or social ramifications."
We have seen a plethora of impersonation examples spanning around the Facebook case studies.
the Impersonation is a tool in the sextortionist's bag.
Threatening to use women's photos to associate them with prostitution was one trick used by Michael C. Ford, the former US Embassy worker who was sentenced to nearly 5 years in jail after pleading guilty to sextorting, phishing, breaking into email accounts, stealing explicit images and cyberstalking hundreds of women around the world.
Facebook's new security measure would also give a degree of trust to women who are stepping back to upload their real images on the platform due to the fear of impersonation.
Facebook has already introduced this new feature to 75% of the World, including India, Brazil, some South American countries and South East Asian zones, where the usage of the social network is prevalent. The feature will be rolled out in November for the rest of the world.
Features Yet to Release!
Parallely, Facebook is also working on similar two technologies which report non-consensual intimate images and a Photo Checkup feature.
Non-consensual intimate images reporting facilitates the user to report any nudity in the Facebook and additionally it also avails the option to identify themselves as the subject of the photo (if so).
The Photo Checkup feature is similar to Facebook's Privacy Dinosaur, which helped users check their privacy settings such as profile info, status info and which apps have the access to the accounts in a single popup window.
Likewise, Photo Checkup is exclusively dedicated to figuring out: Who can view your photos and who cannot!
Facebook is rolling out many security-centric features, which bolsters the security and privacy of User Information in the virtual world.