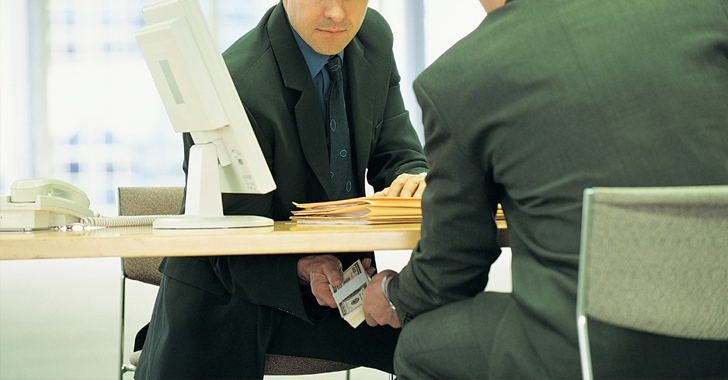 An unsatisfied Employee may turn into a Nightmare for you and your organization.
Nowadays, installing an antivirus or any other anti-malware programs would be inadequate to beef up the security to maintain the Corporate Database.
What would you do if your employee itself backstabbed you by breaching the Hypersensitive Corporate Secrets?
Yes! There could be a possibility for an Internal Breach all the time.
Just last year, an ex-employee stole
Yandex Search Engine Source Code
and tried to sell it for just $29,000 in the underground market.
Over a few years, hackers have adopted various techniques ranging from Stress Attacks to Social Engineering tactics in order to gain the Classified Corporate information.
Hackers Offering $23,000 for Internal Access
Now hackers are rolling their dice for the next Deceptive Step to acquire Corporate Login Details of Irish Apple Employees in exchange of 20,000 Euro ($23,000 USD).
The current situation is being faced by the employees of Apple's European Headquarters in Cork, Ireland.
The offer had been made by the unknown hackers and criminals to the random Apple employees in their mailbox demanding the employee's Apple Login passwords in return of 20,000 Euros.
"You'd be surprised how many people get on to us, just random Apple employees," the anonymous employee said. "You get emails offering you thousands [of euros] to get a password to get access to Apple" stated.
"I could sell my Apple ID login information online for €20,000 ($23,000) tomorrow. That's how much people are trying" another employee quoted.
This new proposal had been made to the non-lifers of the company who would not spend there. Thus, widening a fluky entry to the database.
UPCOMING WEBINAR
🔐 Mastering API Security: Understanding Your True Attack Surface
Discover the untapped vulnerabilities in your API ecosystem and take proactive steps towards ironclad security. Join our insightful webinar!
Join the Session
By gaining the access to Apple Employee's Login credentials, hackers could find the jewel in their pocket for their malicious activity from which they could amass the financial profit.
Apple is considering this scam very seriously and till now, no employees had compromised his/her Login Credentials for illicit gain.
Internal Breach
One of the domestic threat to your organization is the
INSIDER
. According to a
survey conducted
by SANS last year, it is found that 71% of respondents are feared about the Insider Attack.
The consequence of the threat may even result in the liquidation of your company.
The Department of Homeland Security (DHS) and FBI also had a pressed up the issue by underlining that majority of the threats are the outcomes of an Insider.
Lack of Technical Training to the employees, Lack of Budget and inappropriate policies broaden the chances of a breach.
Hiring a Security Firm, Proper
Training to all the Employees
about latest threats, Shutting down of an employee Account soon after his/her Termination, Frequent changes applied in the Password, Limited Allowance of employees to sensitive docs, etc. would cover such vulnerabilities.
Now, before purchasing the high-end firewalls or Virus Destructors, just turn around and look…
...Who's at your back!