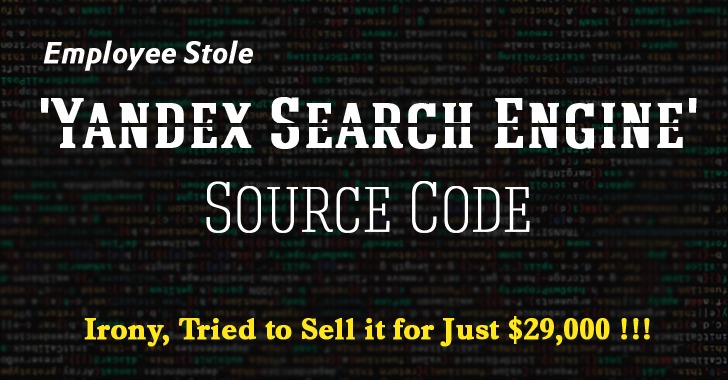 A former employee of Russian search engine Yandex allegedly stole the source code and key algorithms for its search engine site and then attempted to sell them on the black market to fund his own startup.
Russian publication Kommersant
reports
that
Dmitry Korobov
downloaded a type of software nicknamed "
Arcadia
" from Yandex's servers, which contained highly critical information, including the source code and some of the "key algorithms," of its search engine.
Korobov then tried to sell the stolen codes to an electronics retailer called NIX, where a friend of his allegedly worked, and on the dark underground market in search of potential buyers.
But What's the Punchline?
The funniest part is that Korobov requested only $25,000 and 250,000 rubles (a total of almost $29,000) for Yandex's source code and algorithms, which actually cost "Billions of Rubles," or somewhere near $15 Million USD.
However, Korobov was arrested by Russia's Federal Security Service (FSB) before any transaction could take place.
If he had been succeeded, the code of Yandex's core service was floating freely over the Internet, resulting in serious consequences for the company.
The report noted that Korobov's court hearing took place earlier this month, and he received a suspended sentence of 2 years in jail after being accused of illegal possession as well as the distribution of commercial secrets.
The Arcadia software "is a key part of [the] company, it was related directly to Yandex's search engine, which is the [primary] source of the company's income," a Yandex representative said in court.
Yandex is the most popular search engine in Russia and is a big rival of Google. Its market share in November reached around 57 percent of all search queries within Russia, compared to Google's 35.2 percent.