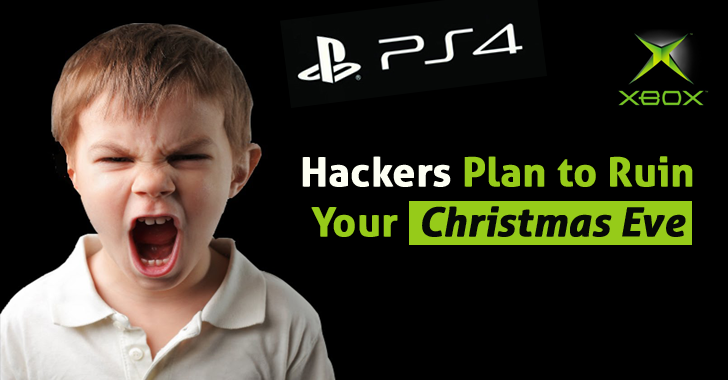 Remember the notorious hacker group Lizard Squad that spoiled last Christmas holidays of many game lovers by knocking the
PlayStation Network and Xbox Live offline
with apparent Distributed Denial of Service (DDoS) attacks?
But, Will you be able to Play Xbox and PlayStation Game this Christmas?
Probably Not.
Because a new hacking group is threatening to carry out similar attacks by taking down the Xbox LIVE and PlayStation Network for a week during Christmas.
Be Ready this Christmas for Attacks on PSN and XBox LIVE
In a series of tweets, a bunch of DDoS hackers calling themselves "Phantom Group" (@PhantomSquad) announced that they will disrupt the XBox Live and PlayStation networks in a coordinated DoS attack.
The attacks could prevent millions of gamers worldwide from enjoying their newly opened Christmas gifts and accessing games online.
Also Read:
PlayStation 4 Jailbreak Confirms
.
Here are the tweets by Phantom Squad:
We are going to shut down Xbox live and PSN this year on Christmas. And we are going to keep them down for one-week straight #DramaAlert
Ok, think about this.... Xbox Live and PSN have millions upon millions of dollars... but do they use that money for better security?
No. PSN and Xbox do not use that money to improve their security... So until they open their eyes, Xbox Live and PSN will remain vulnerable.
Take Phantom Squad's Threats More Seriously
A few days ago, Phantom Squad claimed responsibility for knocking Reddit offline, and Reddit confirms that the issue, saying its databases coming "under extreme load" that could have been caused by a DDoS attack.
"Reddit #Offline Goodnight." — Phantom Squad tweeted on December 15, 2015.
Now, the group has turned its crosshairs toward the gaming networks.
However, neither Microsoft nor Sony responsible for managing PlayStation and XBox Live online networks respectively has confirmed the DDoS attacks, but Microsoft, at least, acknowledged issues with Xbox LIVE when Phantom Squad claimed responsibility.
"Xbox Live #Offline" — Phantom Squad tweeted on December 12, 2015.
As a proof, Phantom Squad also posted a video of its cyber attacks.
If the DDoS attack on PSN and XBox is carried out successfully for a week during Christmas, it will again ruin the Christmas holidays for millions of video game lovers worldwide, just like last year.
Since DDoS attacks are so easy to conduct nowadays when there are so many DDoS tools available online, the important point here is whether Microsoft and Sony have upgraded their DDoS defences enough to defend against the attacks.
So, What do you think about the declarations of war upon PSN and Xbox LIVE? Share your thoughts with us in the comments below.