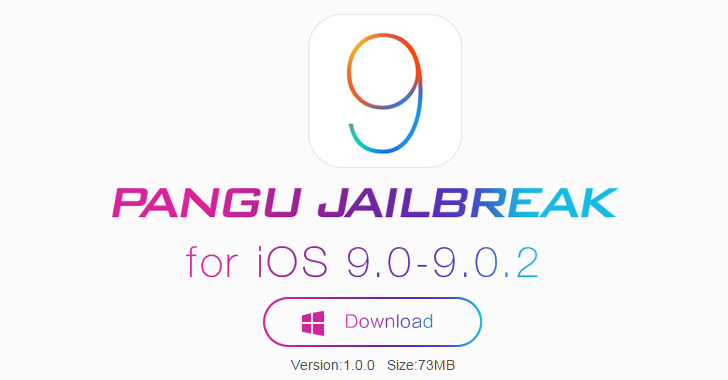 The Chinese Pangu jailbreak team has once again surprised everyone by releasing the first untethered jailbreak tool for iOS 9 – iOS 9.0, iOS 9.0.1, and iOS 9.0.2.
The untethered jailbreak is a jailbreak where your device don't require any reboot every time it connects to an external device capable of executing commands on the device.
The Pangu team released their iOS 9 jailbreak into the wild instead of submitting it to Zerodium, a company which promised a
$1 Million reward for iOS 9 jailbreaks
.
How to Jailbreak iOS 9.0, 9.0.1 and 9.0.2?
Jailbreaking is a process of removing limitations on Apple's iOS devices so you can install third party software not certified by Apple.
Before proceeding to Jailbreak your device, back up all personal data of your device using iCloud or iTunes.
Also, Disable any Anti-virus programs or firewalls that could prevent Pangu from connecting to the Internet.
Now, let's start. Follow these steps to jailbreak your iPhone, iPad and iPod touch running on iOS 9.0, iOS 9.0.1 or iOS 9.0.2 using Pangu iOS 9 Jailbreak Tool:
Step 2: Connect your device to your PC using the USB cable.
Step 3: Turn ON Airplane mode and Turn OFF Passcode from Settings -> Touch ID & Passcode
Step 4: Turn OFF Find my iPhone from Settings -> iCloud -> Find my iPhone.
Step 5: Now Launch Pangu 9 as an Administrator. For this, Right Click on the Pangu exe file and select the Run as Administrator.
Step 6: Once this is done, click on the blue Start button in the center for Jailbreak to begin.
Step 7: Another window appears, Click on Already Backup to continue.
Step 8: This will install two apps – Pangu and WWDC – on your iOS device and automatically reboots your device, and prompt you to enable Airplane Mode again.
Step 9: Once you enable the Airplane Mode, the tool will continue the jailbreaking process.
Step 10: It will again prompt you to unlock your device and run Pangu app from the Home screen.
Step 11: Next, it will ask you to give access to the Photos app. Click Allow, however, it is not clear why it requires access to the Photos app. We will update the post as soon as we get more information on this.
Step 12: After a short while, your iOS device will reboot again, and the Pangu tool will flash a message that your device is "Already Jailbroken."
You can now safely close the Pangu app on Windows. You will find Cydia icon on the Home screen of your iPhone, iPad, or iPod.


What you Need to Know Before Jailbreaking your Device
Jailbreaking violates your End User License Agreement with Apple and also exposes your iOS device to security bugs and puts your personal data at risk (for which you won't get help from Apple when anything goes wrong).
Compatible iOS Devices
This untethered jailbreak, currently available for only for Windows users, is compatible with all iOS 9-supported versions of Apple devices, including:
iPhone 6s and iPhone 6s Plus
iPhone 6 and iPhone 6 Plus
iPhone 5s, iPhone 5c, and iPhone 5
iPhone 4S
iPod touch 5 and 6
iPad Mini 1, 2, 3 and 4
iPad 2, 3 and 4
iPad Air 1 and 2
So, How are you feeling right now after jailbreaking your phone? Let us know in the comments below.