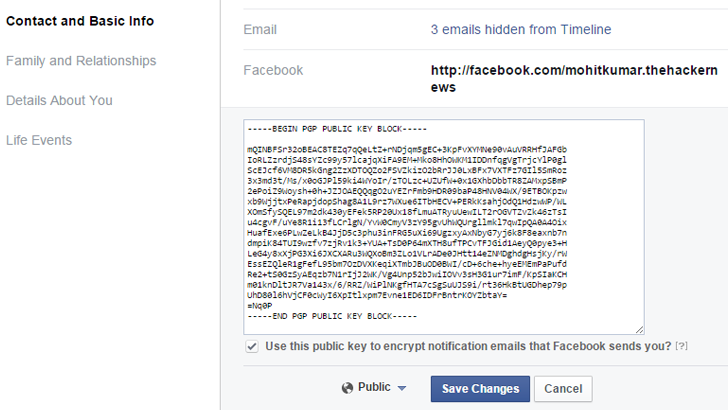 In this era of Global surveillance, we all are worried about the privacy of our communication and sensitive data. There is no guarantee that our data is not being snooped on, but there is a solution — PGP (Pretty Good Privacy).
PGP (Pretty Good Privacy) is more than 20 years old technology but is yet not widely adopted.
PGP is an open source end-to-end encryption standard to encrypt e-mails, protecting you against companies, governments, or criminals spying on your Internet connection. But...
...the tool is too complicated for most of the people to implement and use.
However, Facebook is now encouraging its users to use PGP and communicate by sending encrypted emails, adding the popular OpenPGP email encryption standard as an extra layer of security for the cautious.
According to the latest
announcement
, you can now upload your Public PGP key to your Facebook profile so that anyone with your public key can send you encrypted emails.
By giving such option to users, Facebook could really help rapid adoption of PGP encryption standard worldwide.
The Social Networking Giant has plans to encrypt all its notification emails to users who use PGP or GPG (GNU Privacy Guard), as Facebook currently sends you emails alerts for private messages, password changes, and other account notifications that may be sensitive.
All the emails you receive from Facebook will be protected with encryption, ensuring that no one — even NSA or any other spy agency — can read the content of the messages without the access to your private key.
How to use PGP to send encrypted emails?
In case if you want to send and receive encrypted email using PGP, you will first need to install some extra software given below:
GPG4Win: GNU Privacy Guard for Windows known as GnuPG
Enigmail
Mozilla Thunderbird
Using GPG4Win software, you can create your Public and Private PGP keys. Public Key is something that others will need to know before they can send you encrypted mail. However, Private PGP key will be used to decrypt emails you receive, which you need to keep secret from everyone.
We have published two detailed articles in past:
How to Generate PGP keys to Send/Receive Encrypted Emails.
Once you have generated your Public key, you can add them to your Facebook profile so that your friends and followers can have secure email communication with you, and the social network can start sending you notification emails using the company's
public key
.
Facebook added PGP feature just seven months after the company
launched its Tor hidden service
, providing an effective way to use the social network through the deep web without revealing your identity.
Unfortunately, Facebook's new PGP feature works only on desktops and does not support mobile devices yet, but this is a smart move by the social networking giant towards the security of online users.
I hope Facebook could become a safe platform for users to share their public keys with the public, thereby encouraging the use of encryption.
If you have any question, let us know in the comments and we will find you an answer.