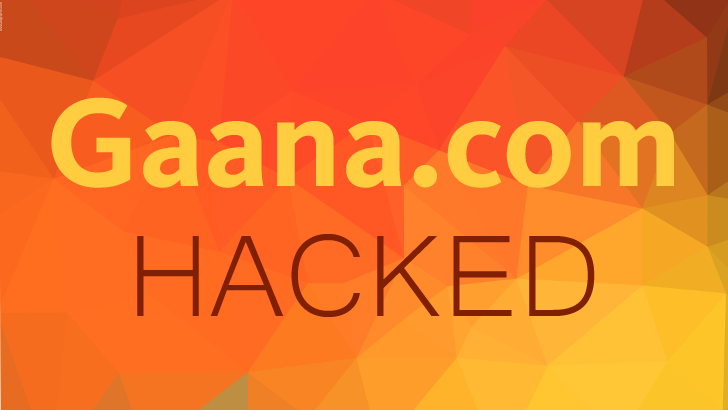 Gaana.com -- One of India's most popular music streaming service with more than 10 Million registered users and 7.5 Million monthly visitors -- has reportedly been hacked, exposing the site's user information database.
A Pakistani hacker, who claimed responsibility for the hack, claims that details of over 10 Million users of Gaana service including their username, email addresses, MD5-encrypted password, date of births, and other personal information has been stolen and made available in a searchable database.
At the time of writing,
Gaana
website is currently down for maintenance without any official statement provided yet. As of now, the site displays,
"Site is down due to server maintenance. We will be back shortly. Kindly bear with us till then."
Details of 10 Million Users Available in a Searchable Database:
The hacker, nicknamed
Mak Man
,
posted
the link to a searchable database of Gaana user details on his Facebook page, with images of the service's admin panel.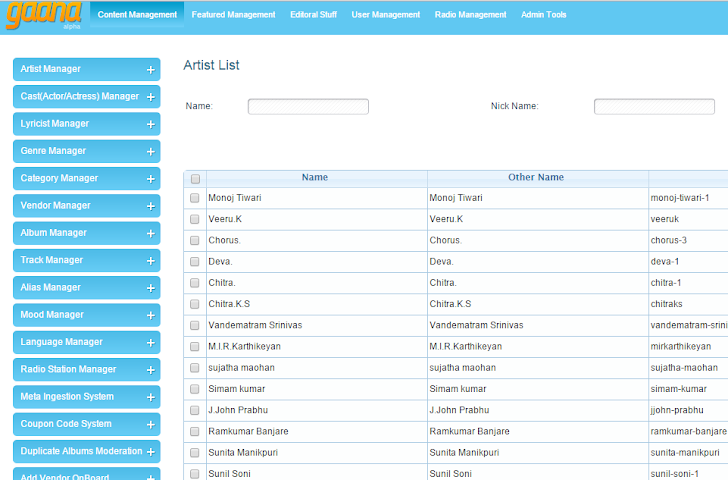 By exploiting an SQL injection vulnerability in Gaana website, Mak Man managed to
gain access to the details of its 10 Million users
. The hacker has also posted a screenshot of SQL exploit he used to get access to the data on Facebook.
Mak Man claimed that he reported the vulnerability by providing full details of the flaw to Gaana.com before. However, the company didn't respond to his report and ignored, which results in the breach of innocent users personal information.
Flaw Reported to the Company, but Ignored:
It sounds really weird that Gaana from one of India's biggest internet companies,
Times Internet
Limited, is vulnerable to such attacks. And even weird when such a reputed company is ignoring vulnerabilities reported to them, putting millions of users at risk.
Most of the data breaches occur because of such behaviour of the companies when hackers and bug hunters responsibly report them flaws but they ignore the issues, encouraging hackers to go public with the details of their customers.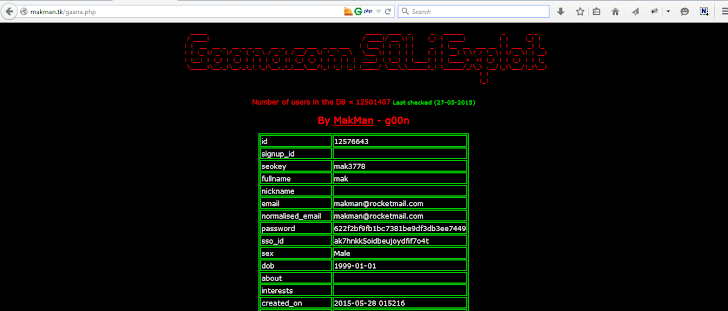 Times Internet CEO Satyan Gajwani
replied to the hacker's
post on Facebook
later and apologised that the company hadn't responded to the security concerns raised by
Mak Man
.
"I don't think your intention is to expose personal information about Gaana users, but to highlight a vulnerability," Gajwani added. "Consider it highlighted, and we're 100% on it. Can I request that you take down access to the data, and delete it completely?"
Gajwani then took to
Twitter
and said that the company is considering the issue seriously and taking steps to fix it. He also said there is no financial or sensitive information lost. He also encourages all customers to reset their passwords as soon as possible.
However, simply changing passwords to your Gaana account would not solve the problem, as it will reflect in the leaked database. You are advised to better deactivate your accounts until the issue is resolved. Besides this, change your email, Facebook and Twitter passwords if you are using the same as on Gaana.
UPDATE
"I hereby confirm that no financial information was accessed during the hack of Gaana.com .. Database was so huge that I didn't even bother looking and no information was dumped and stored locally .. not even a single row," Mak Man said in a Facebook Post.
However, even if the Hacker claims that he has not downloaded the Gaana.com database by exploiting the SQL injection vulnerability, doesn't mean that nobody else has exploited the flaw, as the loophole in the website was open from last few months.
Meanwhile, it is possible that someone may have had their hands on the vulnerability and already stolen the data in past days without the company's knowledge.