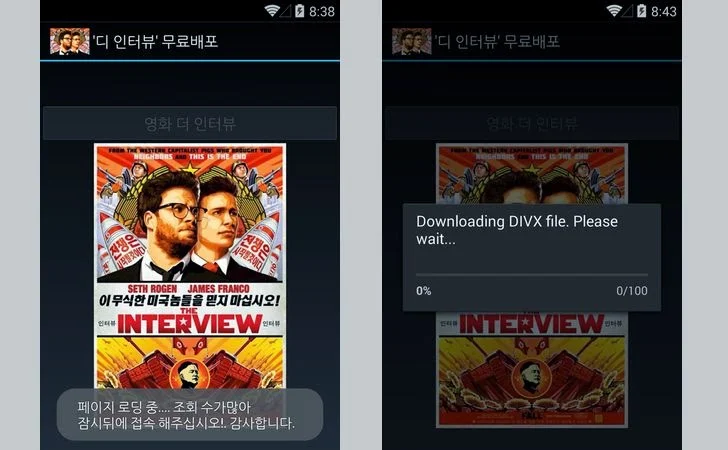 "
The Interview
", the controversial North Korean-baiting film which appeared to be the root cause of the cyber mishap occurred at
Sony Pictures Entertainment
that threatened terror attack at theaters showing the movie, now threatens to expose users of Android phones to a malware attack.
Since its release, everyone is talking about "The Interview" — the Seth Rogen and James Franco-starring comedy centered around a TV host and his producer assassinating North Korean dictator Kim Jong Un. Because cybercriminals are known to take advantage of major events where there is a high level of public interest, The Interview became their target.
In a joint investigation, Security researchers of McAfee and
Technische Universität Darmstadt and the Center for Advanced Security Research Darmstadt (CASED)
has
discovered
an Android app claiming to download 'The Interview' comedy on their smartphone devices actually infects users' devices with banking trojan in order to steal their financial information.
The
Banking Trojan
is appeared to be hosted on
Amazon Web Services
and is delivered via a torrent file. Researchers have identified that the malware campaign is targeting
Android
users in South Korea and is active from the last few days. The campaign is attempting to exploit the popularity of The Interview movie that triggered tension over its release on Christmas.
The
malware
trojan, detected by the researchers at McAfee as Android/Badaccents, targets customers of some Korean banks as well as an international bank, Citi Bank. According to researchers, the Trojan is selective about its victims and avoids infection of devices sold in North Korea.
"One aspect which will probably raise eyebrows, is that the malware code includes a routine to check the device's manufacturing information," Graham Cluley wrote on his blog. "If it is set to either 삼지연 (Samjiyon) or 아리랑 (Arirang), smartphone manufacturers whose Android devices are sold in North Korea, the malware will not infect, and instead display a message that an attempt to connect to the server failed."
The researchers' findings cited by Cluley revealed that at least 20,000 devices have been infected and that the information exfiltrated from the devices is uploaded to a Chinese mail server.
Security researchers at McAfee has notified Amazon Web Security about the malware hosting issue so that the Amazon-hosted files can be removed and prevent further infections. However, other online storage services could be used by cybercriminals for carrying out the campaign.
Usually cybercriminals use third party Android app to distribute trojan malware in order to infect smartphone users, but this is the first time when cyber crooks have chosen torrent websites to deliver the Trojan, probably because "The Interview" is already at the top of search results in Korea and most of the countries.