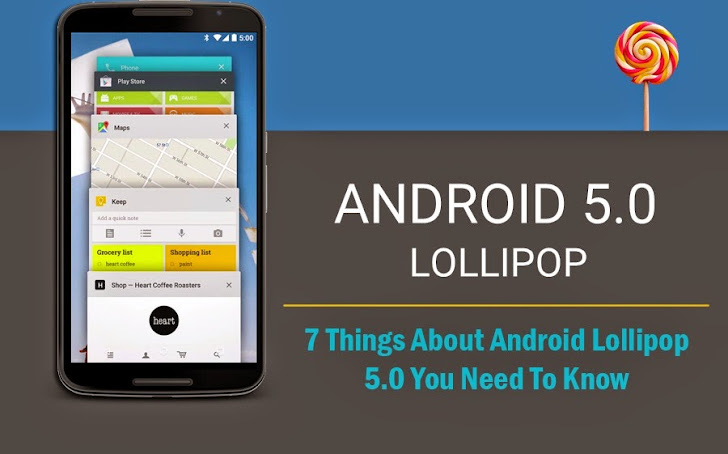 After offering chocolate (
Kit-Kat
), now Google is ready to serve you Lollipops. Google on Wednesday finally revealed the official name of its next version Android L —
Android 5.0 Lollipop
.
The newly released Android 5.0 Lollipop ships with the latest Motorola-made Nexus 6 smartphone and Nexus 9 tablet built by HTC, but the company did not make the Lollipop available for download to other users immediately. The older versions of Nexus devices will receive the Lollipop update in the coming weeks.
Lollipop features some significant changes to the Android platform with a sleek new user interface, cross platform support and improved performance via the new ART runtime engine. The operating system also offers better battery life, improved notifications, OpenGL ES 3.1 and 64-bit support, among other features.
Here are some most notable features of
Android 5.0 Lollipop
, along with some insight as to when you might be able to get your hands on it.
Google describes Lollipop as "the largest Android release yet," with more than 5,000 new APIs. So from the developer's perspective, there is a lot for developers to explore. Technically, the release brings Android up to API level 21.
1) MATERIAL DESIGN
Lollipop features a redesigned User Interface, which is referred to as Material Design, in which Google made extensive use of animations and layered elements to deliver what it promises.
The material design interface runs on multiple types of devices, including everything from your smartphone and tablet to your laptop and TV. The new interface supports elevation values, real-time shadows and lighting that gives a 3D appearance overall.
2) SECURITY IMPROVEMENTS
With Lollipop, Security gets enhanced as well, since it comes with encryption turned on by default in order to protect users' data from being accessed on lost or stolen devices.
Most importantly, now you are free to share your devices with any of your friends, as Lollipop offers you guest user mode, where you can create multiple user accounts to enable your friends to log in on your device. Therefore, in both the cases, no one will be able to access your private files.
3) ANDROID SMART LOCK
For an extra layer of security, there is an Android Smart Lock, which makes it easier to unlock your phone without having to constantly enter a pin or trace a pattern. Android smart lock secures your phone or tablet by pairing it with a trusted device like your Android smartwatch, car, or even facial expressions.
For example, your Android Lollipop device will recognize your Smart watch and let you unlock your phone by simply tapping the power button. The company has also enforced the SELinux security module for all apps to give better protection against vulnerabilities and malware.
4) NOTIFICATIONS ENHANCEMENT
Notifications also get enhanced with the new OS, as of now you'll be able to rank them based on your priorities. You can now view and respond to messages directly from your lock screen, and also could hide notifications for sensitive contents by turning on Priority mode through your device's volume button.
You can also choose to avoid calls from interrupting the game you are playing or the movie you are watching. You can also see a more complete list of features
here
; scroll down to the bottom and click the "
See All Features
" link.
5) KILL-SWITCH IMPROVEMENT
Among lots of other features of Lollipop, Google is supporting a "kill-switch" to make stolen phones unusable through what it is calling "Factory Reset Protection."
Essentially, it requires a password before a phone can be reset, ideally preventing thieves and intruders from making use of stolen phones.
6) RUNTIME AND PERFORMANCE BOOST
Users will experience a faster, smoother and more powerful computing with Lollipop. ART, an entirely new Android runtime, improves application performance and responsiveness as well. The new Android is ready for the 64-bit era, as it comes fully prepared to support a full 64-bit environment.
Supports 64 bit devices that brings desktop class CPUs to Android
Support for 64-bit SoCs using ARM, x86, and MIPS-based cores
Shipping 64-bit native apps like Chrome, Gmail, Calendar, Google Play Music, and more
Pure Java language apps run as 64-bit apps automatically
7) BATTERY LIFE
Last but not least, Android Lollipop is expected to bring some serious battery improvements to your mobile devices via Google's Project Volta. The software will benefit you from a Power Saving mode that detects when your handset's battery life is low, the app can automatically reduce CPU load and display brightness.
According to Google, the feature can get you an additional 90 minutes when you are running low, which is a lot of power when you are running on empty. The feature also displays an estimated time left to fully charge when your device is plugged in as well as time left on your device before you need to charge again.