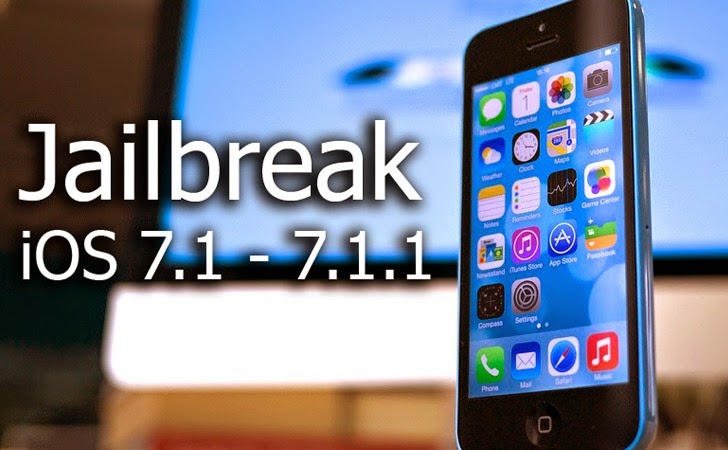 Quite Surprisingly, a team of Chinese hackers,
Pangu
have released an untethered jailbreak for iOS 7.1 and iOS 7.1.1.
This untethered jailbreak is compatible with iPhone 5s, iPhone 5c, iPhone 4S, iPhone 4, iPad Air, iPad 4, iPad 3, iPad 2, iPad mini, Retina iPad mini and iPod touch 5G running iOS 7.1-iOS 7.1.1.
The jailbreak tool is currently available for Windows but works on every iOS devices. Many iOS users have posted on Reddit that the tool works successfully.
Jailbreaking is a process of removing limitations on
iOS devices
, Apple's operating system, so you can install third party software not certified by Apple. Such devices include the iPhone, iPod touch, iPad, and second-generation Apple TV.
One question rises in my mind that when
Apple
's system root protections have been greatly enhanced in an effort to make jailbreaks more difficult, then what's the whole story behind the unexpectedly release of this jailbreak tool?
STEPS TO JAILBREAK iOS 7.1 & iOS 7.1.1
The installation process of the isn't as simple as the previous jailbreak, but you can follow this Reddit thread:
Make sure you have iTunes installed.
Edit your iPhone's date to June 2, 2014
Open the PanGu.exe file
Click the black button to the right (also UNCHECK THE CHECKMARK where you see random characters and the "PP")
As soon as the "brush stroke" loading bar fills to 20%, the PanGu app will appear on your phone
Tap it
Select Continue
It will fill the loading brush stroke until 80% and your iTunes will open (it will only open IF you have iTunesHelper.exe on your Windows Taskbar)
Close iTunes
Your device will reboot
When it opens again, wait for the brush stroke to complete to 100%
Your device will reboot once more
The process will be finished 100%
The PanGu app will be replaced with Cydia
Do your usual stuff by opening Cydia and continue with what you want to install by then.
For precautionary measures, install Complete PPSync Remover (on https://cydia.angelxwind.net repo) because even though you uncheck the "PP" on step 4, it installs it anyway (internally without the app showing)
COMPATIBLE DEVICES
This Untethered Jailbreak is compatible with following devices running iOS 7.1-iOS 7.1.1:
iPhone 5s
iPhone 5c
iPhone 4S
iPhone 4
iPad Air
iPad 4
iPad 3
iPad 2
iPad mini
Retina iPad mini
iPod touch 5G
CONTROVERSY OF STOLEN JAILBREAK EXPLOIT
It's worth noting that the jailbreak is available from a new team and the said hack is the first from the team. The controversy behind the sudden release of the jailbreak apparently came from one of the exploits used by a security expert and known jailbreaker Stefan Esser, aka i0n1c, who show off the method to jailbreak the iOS 7.1.1 using iPhone 5C during his training session.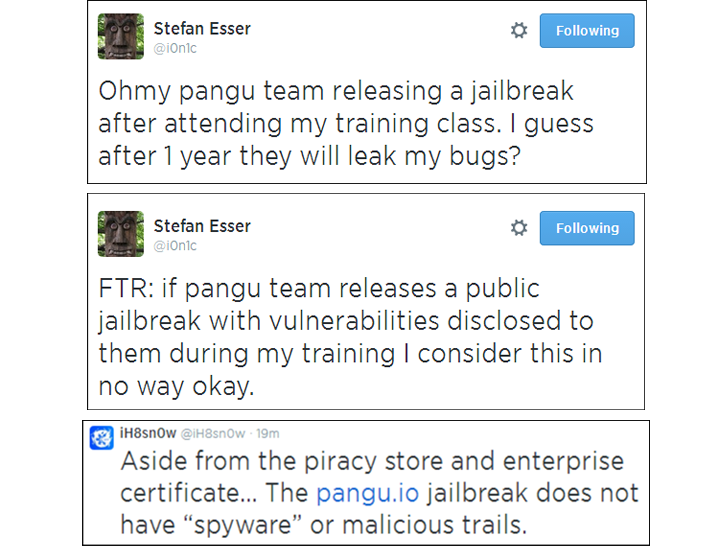 The people behind it reportedly took this training session given by Esser and allegedly exposed his exploit in the market. Esser expressed his disappointment over the adoption of his exploit via his twitter account, and later Esser even called the Pangu team members "thieves" and wished "everyone of my followers who installed Pangu much fun with malware from China."
The jailbreak tool (
download here
) apparently installs the most popular third-party app installer Cydia, but also throws in a Chinese store with apps unsanctioned by Apple.
However, world-renowned software developer and a very well-known iOS hacker, H8sn0w has confirmed via Twitter that the jailbreak tool does not contain any spyware or
malicious software
in it and is safe to use.