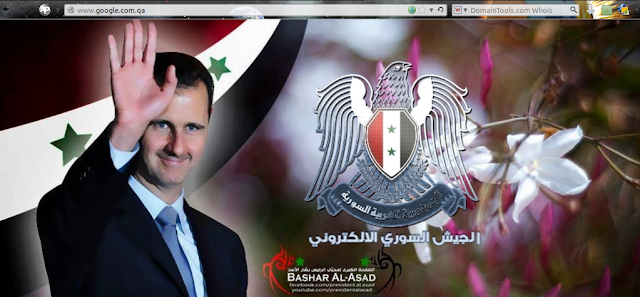 The
Syrian Electronic Army (SEA)
is at it again. The hacktivist group, who are known to back Syrian President
Bashar al-Assad
, has hacked many high profile Qatar based websites, including the Google, Facebook, Aljazeera and Government - Military websites.
Starting at about 4:25 am (GMT 5:30+), the Syrian Electronic Army shared this message on Twitter:
Qatar is #down
and following that, they went about switching off government and private websites using the
.qa
extension.
The domains are managed by Qatar's Ministry of Information and Communication (ictQatar). Apparently, the Syrian Electronic Army gained access to
Qatar Domain Registrar
(
portal.registry.qa
) and modifies the
DNS entires
to redirects the targeted websites to servers controlled by hackers serving
defacement
page, that include a picture of Assad and the groups logo, as shown.
The List of the targeted websites is posted on Twitter by hackers - these include:
moi

.

gov

.qa

facebook

.qa

gov

.qa

vodafone

.qa
aljazeera.net.qa
google.com.qa
ooredoo.com.qa

diwan

.

gov

.qa

qaf

.mil.qa

mofa

.

gov

.qa
Another tweet from SEA shows that they have unauthorized access to Domain Registrar of Qatar: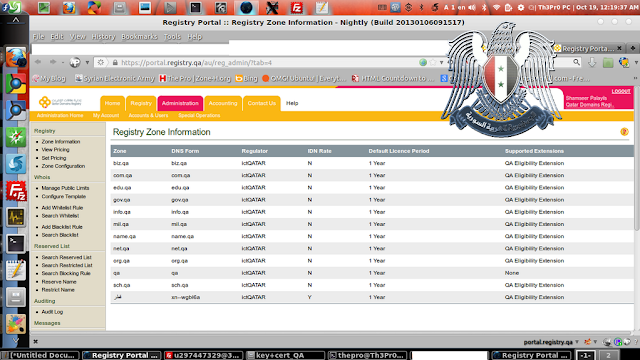 The SEA's high-profile media hacking spree began earlier this year. Among the victims of the group are
The Financial Times
, The Guardian, and the
Associated Press
. Most recently, the
Washington Post
got hit. The common running theme: the papers reported stories SEA didn't like.
At the time of reporting, most of the hijacked websites are still showing the deface page while other are now down. These attacks are one more example of why companies need to implement properly layered defense strategies.
Have you been affected?