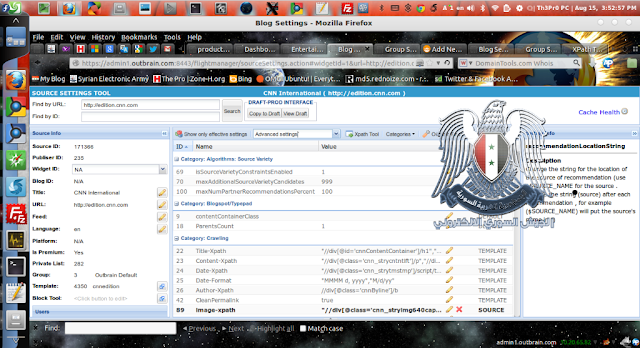 After months of disrupting the Twitter accounts of major U.S.
media
outlets, The
Syrian Electronic Army
Leader Says that they won't Stop hacking.
Just two days before
SocialFlow,
a social media optimization platform was hacked by
Syrian Electronic Army
and readers on certain stories being redirected to the site of the Syrian Electronic Army. T
he hackers hit four journalists employed by the New York Post, the tabloid's Facebook page, and a columnist for The Washington Post.

Syrian Electronic Army today
announced
that they hacked into the admin panel of
Outbrain,
a
content recommendation service, used my

millons

of websites including The
Washington Post, CNN, TIMES and also

by

us at 'The Hacker News'.
They edit many parameters

tp

"Hacked by SEA" from the website panel , that actually reflects on major websites in widget as shown in

above screenshot

. Hackers also claimed to have access to
Outbrain's email box

.
The people behind the pro-Assad SEA have long been a mystery, and is made up primarily of nine college students, all of whom are living in Syria.
We are aware that Outbrain was hacked earlier today and we took down the service as soon as it was apparent. The breach now seems to be secured and the hackers blocked out, but we are keeping the service down for a little longer until we can be sure it's safe to turn it back on securely.

On the evening of August 14th, a phishing email was sent to all employees at Outbrain purporting to be from Outbrain's CEO. It led to a page asking Outbrain employees to input their credentials to see the information. Once an employee had revealed their information, the hackers were able to infiltrate our email systems and identify other credentials for accessing some of our internal systems.