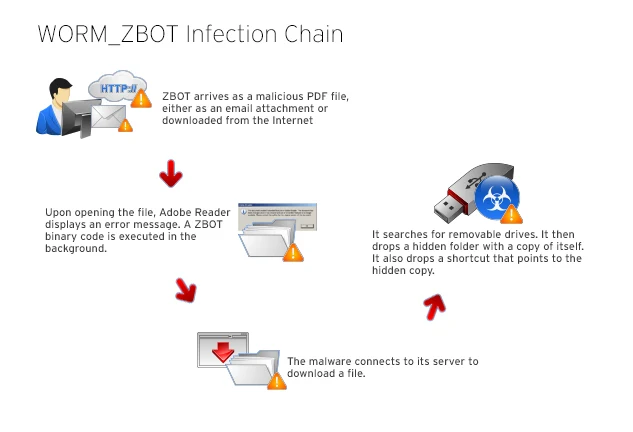 The notorious
Zeus Trojan
, a family of banking malware known for
stealing passwords
and draining the accounts of its victims, has steadily increased in recent months.
The malware family itself is frequently updated with mechanisms designed to
evade detection
by antivirus and network security appliances.
Trend Micro
experts spotted another new variant of
ZBOT Malware
which is capable of spreading itself automatically via USB Flash Drives or removable drives.
According to
report
, this particular ZBOT variant arrives through a malicious PDF file disguised as a sales invoice document and when user opens this file using Adobe Reader, it triggers an
exploit
.
Malware
also has an auto update module, so that it can download and run an updated copy of itself. To self propagate, it creates a hidden folder with a copy of itself inside the USB drive with a shortcut pointing to the hidden ZBOT copy.
Zeus has been so successful it's been made into an exploit kit, a packaged malware that is setup to allow even inexperienced cybercriminals to use it.
ZeuS
continues to be a formidable malware which is becoming more dangerous with each improvement made to it.