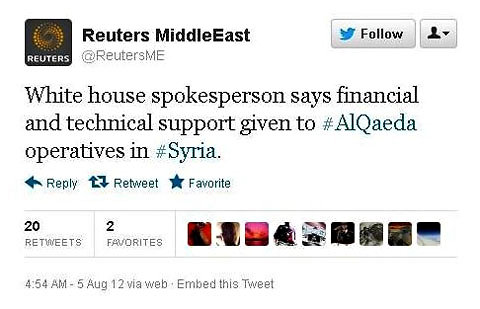 On Friday, Reuters blog platform was hacked with false posts and on Saturday, the @ReutersTech account on Twitter was taken over and renamed @TechMe. False tweets were sent before it was taken down.
The first attack came Friday after Syrian hackers loyal to President Bashar al-Assad allegedly gained access to Reuters' blogging platform, which they used to post a fake interview with rebel Free Syrian Army (FSA) leader Riad al-Assad. The interview essentially said the general was withdrawing troops after a battle.
Presumably, the same hackers are responsible for also compromising a Reuters Twitter account dedicated to technology news, which has about 17,500 followers. Reuters confirmed the breach today in a tweet on its main Twitter account:
Earlier today @ReutersTech was hacked and changed to @ReutersME. The account has been suspended and is currently under investigation
Several of the updates posted on the hacked Reuters account, which claimed that rebels in the city of Aleppo had been routed and were planning a tactical retreat, closely echoed details of the fabricated reports posted on the agency's blogs two days earlier.
The tweets themselves were mostly pro-Syrian government messages, as well as some inflammatory statements targeted at the U.S. government.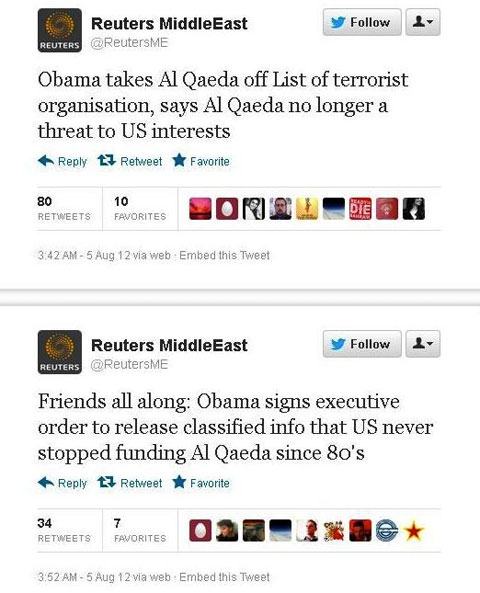 One part of the elaborate fiction was an update reporting the fake news that President Obama had signed an "executive order banning any further investigation of 9/11."
No hacker collective has taken credit for this second breach, but still the main suspect remains the Syrian Electronic Army, a group known for heavily supporting the current government and aiding it in defending its infrastructures against hacktivists who oppose it.