PacketFence is a free and open source network access control (NAC) system. It can be used to effectively secure networks - from small to very large heterogeneous networks. PacketFence has been deployed in production environments where thousands of users are involved - on wired and wireless networks.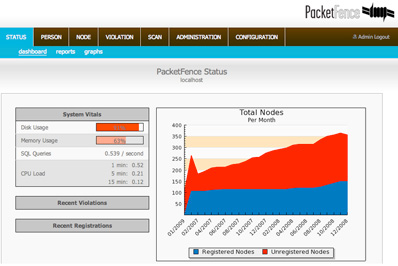 PacketFence provides an impressive list of supported features. Among them, there are:
Registration of network components through a captive portal
Automatic isolation, if desired, of unwanted devices such as Apple iPod, Sony PlayStation, wireless access points and more
Instant stopping of computer worms or virus propagation
Blocking of attacks on your servers or other network components
Compliance for computers present on your network (software installed, particular configurations, etc.)
PacketFence is an unobtrusive solution that works with equipment from many vendors (wired or wireless) such as Cisco, Nortel, Hewlett-Packard, Enterasys, Accton/Edge-corE, 3Com, D-Link, Intel, Dell and many more.
Changes in 2.2
PacketFence's captive portal now features network access detection using JavaScript and Kerberos can be used for authentication. The integration with FreeRADIUS 2 has also been greatly simplified and it's now possible to modify and preview remediation pages directly from PacketFence's web interface.
Futhermore, support for new 3Com switches (4200G, E4800G and E5500G in MAC Authentication and 802.1X) and Motorola RF Switches wireless controllers was added. Apache's configuration is automatically adjusted on startup based on system resources to avoid performance degradation on heavy workloads. And finally, new reports were added such as "Nodes per SSID" or "Connection Type".
Download : https://www.packetfence.org/download/releases.html