GMA-7 television networks

website , twitter & Facebook hacked by

D4RKB1T

The website of one of the leading television networks in the Philippines has been hacked by a username "D4RKB1T".
GMA-7's website - gmanews.tv, its Facebook and Twitter accounts have been simultaneously hacked on Sunday Morning.
Users are redirected to google.com whenever they tried to enter the network's website.
"GMA HACKED BY D4RKB1T," was displayed on the network's official Facebook fan-page.
The hacker however had managed to explain why he hacked the sites.
"This is not about stupidity, but a message to webdevs [website developers]. Learn to secure your sites, user accounts and passwords with personal information are being stored there. We have to be ready for such cyber terrorism," the hacker's statement posted at the GMA's fan-page. "No 'database' was altered or removed.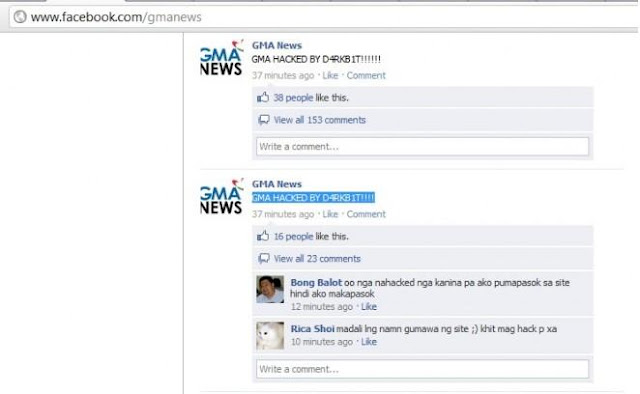 The hacker continued, "We have to be vigilant on securing sites or else personal information will be leaked."
"I did not intend to make damage, just make the devs listen! They never respond to my messages telling them about the security hole," the hacker said.
The hacking lasted for more than 30 minutes.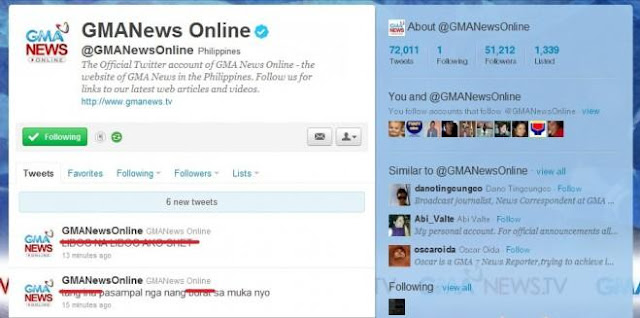 The TV Network in a statement on its Twitter account said, "We have re-established control of GMANewsOnline. Our apologies for the profanities."
The identity of the said hacker has yet to be determined.
Last year, the government had expressed alarm over the series of hacking incidents on some of its agencies' websites.