Hackers owing allegiance to protestors and stonepelters in Kashmir have hacked a website of Sikkim government and posted a message and pictures of the agitators on the page.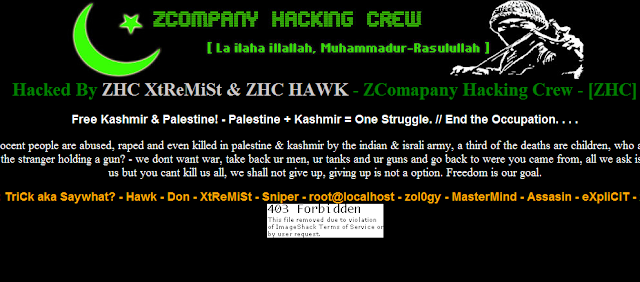 The hacked website -- www.sikkim-culture.gov.in -- belongs to the Cultural Affairs and Heritage Department of the Sikkim government, which promotes art and culture of the north -eastern state.
The group, which claimed to have hacked the website, identified itself as Z-Company and in the past several months has indulged in similar acts in the past.
"Everyday hundreds of innocent people are abused, raped and even killed in Palestine and Kashmir by the Indian and Israeli army, a third of the deaths are children, who are the real soldiers? The child holding a stone or the stranger holding a gun?," read the message posted on the webpage.
Hackers also left behind two pictures of stone- pelting protestors in Kashmir and Palestine.
Earlier, another group of hackers, calling themselves Cyber Sangbaaz (Stonepelters) Force, hacked a website dedicated to Bollywood superstar Amitabh Bachchan.
Interestingly, the names of some of the hackers who hacked the Amitabh Bachchan fan website also appeared on the hacked Sikkim government website, which indicates that the two groups work in tandem.