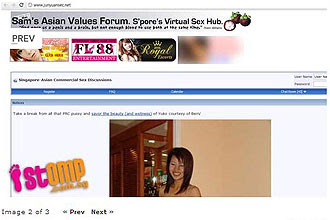 A LOCAL secondary school's website was allegedly hacked and replaced with a pornographic site according to
a post in citizen journalism website Stomp.
Stomper John, seeking a potential school for his son entering secondary school next year, visited the website of Junyuan Secondary School for more information on Wednesday evening after recommendations from friends that it was a good school.
Upon logging into www.junyuansec.net , a pornographic site greeted him. He said the website had been hacked into and replaced with the pornographic site. 'What shocked me more was that the school did not do anything about it and let it remain this way,' he says.
He added: 'It was like this the entire evening and I hope that the school will do something about it asap as it will tarnish the school's reputation.'
An page error notification appeared when StraitsTimes.com tried to access the link on Thursday afternoon.
The school's principal, Lee Lai Yong, told StraitsTimes.com in an email statement that they had terminated the website earlier this month, and that it was no longer the school's website. 'We are working with our vendor to ensure that such an incident does not occur again,' she said, and that 'we are currently transiting to a new web address, which will be ready by the end of this month.'