Final arguments in the extradition hearing of WikiLeaks founder Julian Assange were presented in a London court on Friday.
The judge is expected to rule on February 24, but the case is likely to continue long afterward if either side files an appeal.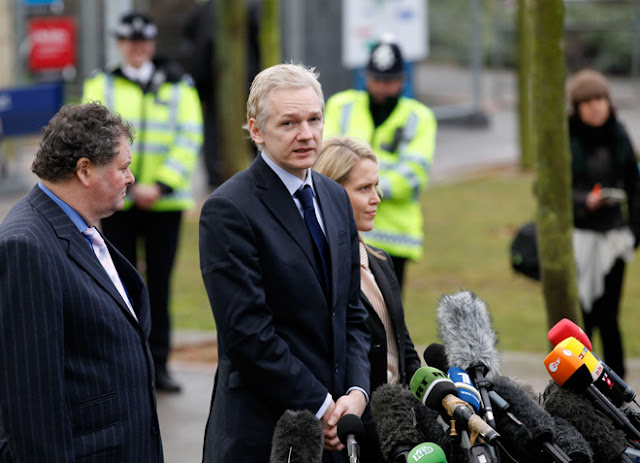 Assange is being sought for questioning in Sweden on rape and coercion allegations stemming from sexual relations he had with two women in that country last August. One woman has claimed that Assange pinned her down to have sex with her and intentionally tore a condom he wore. The second woman claims that he had sex with her while she was initially asleep, failing to wear a condom despite repeated requests for him to do so. Assange has disputed their claims.
Assange's attorneys have argued that Swedish prosecutor Marianne Ny had abused the Swedish and U.K. legal process by attempting to extradite Assange without charging him with a crime, and for alleged offenses that are not subject to extradition. They contradicted Ny's assertion that Sweden had issued an arrest warrant for Assange only after exhausting all "normal procedures" for questioning him.
The WikiLeaks founder, they said, had made himself available to Swedish prosecutors for questioning when he was in that country last year, but the prosecutor's office had failed to follow up. The office had also given Assange permission to leave the country, only to then issue an arrest warrant to force him to return to Sweden for questioning, without ever first making a formal request to him to come in for an interview in the U.K.
"The proper, proportionate and legal means of requesting a person's questioning in the U.K. in these circumstances is through Mutual Legal Assistance," attorney Mark Stephens wrote in court documents, adding that "there is nothing to show that the Prosecutor ever sought to engage the usual MLA procedures for questioning Mr. Assange."
Defense attorneys have also claimed that Assange would not get a fair trial in Sweden, since rape trials in that country are sometimes held behind closed doors.
Clare Montgomery, the London-based attorney representing Swedish prosecutors in the hearing, has argued that they acted within the law in issuing an arrest warrant for Assange. She also disputed that Assange would be tried in secret in Sweden. Although evidence in the trial might be heard in private, arguments in the case would be made in public.
News Source : Google