404907 websites

hacked by

Iskorpitx

(

Turkish Hacker

)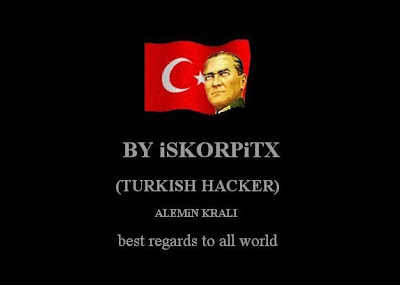 Type the word "
Iskorpitx
" into Google, and see what you get. Exactly the same word spit back at you, except from any number of different sites. That's because Iskorpitx is the handle of a hacker who recently committed the biggest hacking incident in web-hosting history. Those search results are the graffiti he left.
Quote from zone-h.org:
"
Turkish cracker going by the handle "Iskorpitx", succesfully hacked 21,549 websites in one shot (plus 17,000 as our last update) and defaced (on a secondary page) all of them with a message showing the Turkish flag (with AtaTurk face on it)
"
Also, Iskorpitx was reportedly responsible for the largest defacement in web history, successfully hacking 21,549 websites in one shot in May 2006.
Biggest news was about
NZ Parliament video site
being hacked, and also sites hosted by
A2Hosting
and
GoDaddy
.But the attack was actually bigger than that, even some
Estonian sites
were attacked.
After doing a research, it appears to me that iSKORPiTX does this sort of thing from time to time, every 3-6 months or so. I found one place where someone said he attacked over 20,000 sites in under 24 hours.
Iskorpitx has quite a reputation for this sort of thing. Since 2003, he's hacked an estimated 117,000 websites, not even including this latest round, and some of those were the sites of his own country's government.
Based on Zone-H's record which is always verified to be accurate, tens of thousands of GoDaddy customers were defaced. Without some kind of investigation, we can't be certain if GoDaddy knew what and when but if the forum thread from April 2005 is authentic and accurate, then we have a big problem that nothing was done in over a year which resulted in the biggest mass web defacement ever. As a customer of GoDaddy hosting myself, I want to know the truth.
It remains unknown whether the most recent attacks where made at the root or webserver level. Iskorpitx executes his hacks by creating subpages, regardless of what authorization level he achieves on the servers.

Iskorpitx's motivations are unclear. Although many of the Turkish hackers have religious agendas, he does not seem to share them. Whatever his reasons or inspiration, Iskorpitx is acting as a massive nuisance throughout the Web.
You can see his all defacements records at Zone-h : Click Here