Do you support WikiLeaks? Are you mad at critics trying to snuff it out? Maybe you're thinking about joining the online protests aimed at shutting down the Web sites of its opponents. Don't.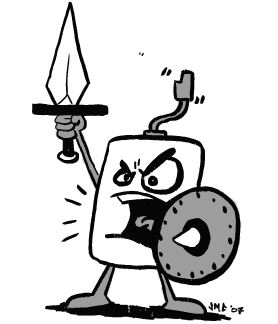 A loosely organized group of vigilantes under the name Anonymous have turned the botnet guns of their Operation Payback campaign, which previously targeted antipiracy organizations, on PayPal, Visa, MasterCard, Senator Joe Lieberman, Sarah Palin, and others who have criticized WikiLeaks or stopped doing business with the document-sharing project. The WikiLeaks fallout has hit a frenzy since the site began releasing diplomatic cables last month that have proved embarrassing for the U.S. government's diplomatic efforts.
The modern-day equivalent of walking the picket line with a sign is launching denial-of-service attacks against target Web sites in order to send a message and try to interfere with their business. But the electronic version is illegal.
"Participating in a botnet with the intention of shutting down a Web site violates the Computer Fraud and Abuse Act," said Jennifer Granick, a lawyer at Zwillinger Genetski who specializes in Internet law and hacking cases. "The thing people need to understand is that even if you have a political motive, it doesn't change the fact that the activity is unlawful."