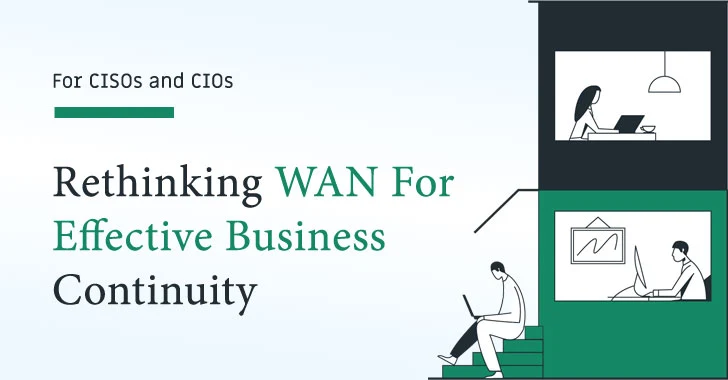 As more businesses leverage remote, mobile, and temporary workforces, the elements of business continuity planning are evolving and requiring that IT professionals look deep into the nuts and bolts of connectivity.
CISOs and their team members are facing new challenges each and every day, many of which have been driven by digital transformation, as well as the adoption of other productivity-enhancing technologies.
A case in point is the rapidly evolving need to support remote and mobile users as businesses change how they interact with staffers.
For example, the recent COVID-19 crisis has forced the majority of businesses worldwide to support employees that work from home or other remote locations.
Many businesses are encountering numerous problems with connection reliability, as well as the challenges presented by rapidly scaling connectivity to meet a growing number of remote workers.
Add to that security and privacy issues, and it becomes evident that CISOs may very well face what may become insurmountable challenges to keep things working and secure.
It is the potential for disruption that is bringing Business Continuity Planning (BCP) to the forefront of many IT conversations. What's more, many IT professionals are quickly coming to the conclusion that persistent WAN and Internet connectivity prove to be the foundation of an effective business continuity plan.
VPNs are Failing to Deliver
Virtual Private Networks (VPNs) are often the first choice for creating secure connections into a corporate network from the outside world.
However, VPNs have initially been designed to allow a remote endpoint to attach to an internal local area network and grant that system access to data and applications stored on the network.
For occasional connectivity, with a focus on ease of use.
Yet, VPNs are quickly beginning to show their limitations when placed under the demand for supporting a rapidly deployed remote workforce.
One of the most significant issues around VPNs comes in the context of scalability; in other words, VPNs can be complicated to scale quickly.
For the most part, VPNs are licensed by connection and are supported by an appliance on the network side to encrypt and decrypt traffic. The more VPN users that are added, the more licenses and processing power that is needed, which ultimately adds unforeseen costs, as well as introducing additional latency into the network.
Eventually, VPNs can break under strain, and that creates an issue around business continuity. Simply put, if VPNs become overwhelmed by increased traffic, connectivity may fail, and the ability for employees to access the network may be impacted, the concept of business continuity suffers as a result.
VPNs are also used for site to site connections, where the bandwidth may be shared not only from a branch office to a headquarters office but also with remote users. A situation such as that can completely derail an organization's ability to do business if those VPNs fail.
Perhaps an even bigger concern with VPNs comes in the form of cybersecurity. VPNs that are used to give remote users access to a network are only as reliable as the credentials that are given to those remote users.
In some cases, users may share password and login information with others, or carelessly expose their systems to intrusion or theft. Ultimately, VPNs may pave the way for attacks on the corporate network by allowing bad actors to access systems.
ZTNA Moves Beyond VPNs
With VPN technology becoming suspect in the rapid expansion of remote workforces, CISOs and IT pros are looking for alternatives to ensure reliable and secure connections into the network from remote workers.
The desire to bridge security and reliability is driven by continuity, as well as operational issues. CISOs are looking to keep costs down, provide a level of security, without compromising performance, and still meet projected growth.
Many enterprises thought that the answer to the VPN dilemma could be found in
SDP (Software Defined Perimeters)
or ZTNA (Zero Trust Network Access), two acronyms that have become interchangeable in the arena of cybersecurity.
ZTNA has been built for the cloud as a solution that shifted security from the network to the applications. In other words, ZTNA is application-centric, meaning that users are granted access to applications and not the complete network.
Of course, ZTNA does much more than that. ZTNA can "hide" applications, while still granting access to authorized users. Unlike VPNs, ZTNA technology does not broadcast any information outside of the network for authentication, whereas VPN concentrators sit at the edge of the network for all to see, making them a target for malicious attackers.
What's more, ZTNA uses inside-out connections, which means IP addresses are never exposed to the internet. Instead of granting access to the network like a VPN, ZTNA technology uses a micro-segmentation approach, where a secure segment is created between the end-user and the named application.
ZTNA creates an access environment that provides private access to an application for an individual user, and only grants the lowest level of privileges to that user.
ZTNA technology decouples access to applications from access to the network, creating a new paradigm of connectivity. ZTNA based solutions also capture much more information than a VPN, which helps with analytics and security planning.
While a VPN may only track a device's IP address, port data, and protocols, ZTNA solutions capture data around the user identity, named application, latency, locations, and much more. It creates an environment that allows administrators to be more proactive and more easily consume and analyze the information.
While ZTNA may be a monumental step forward from legacy VPN systems, ZTNA solutions are not without their own concerns. ZTNA solutions do not address performance and scalability issues and may lack the core components of continuity, such as failover and automated rerouting of traffic.
In other words, ZTNA may require those additional third-party solutions to be added to the mix to support BCP.
Resolving ZTNA and VPN issues with SASE
A newer technology, which goes by the moniker of
SASE (Secure Access Service Edge)
, may very well have the answer to the dilemmas of security, continuity, and scale that both ZTNA and VPNs introduce into the networking equation.
The Secure Access Service Edge (SASE) model was proposed by Gartner's leading security analysts, Neil MacDonald, Lawrence Orans, and Joe Skorupa. Gartner presents SASE as a way to collapse the networking and security stacks of SD-WANs into a fully integrated offering that is both easy to deploy and manage.
Gartner sees SASE as a game-changer in the world of wide-area networking and cloud connectivity. The research house expects 40% of enterprises to adopt SASE by 2024. However, a significant challenge remains, networking and cybersecurity vendors are still building their SASE offerings, and very few are actually available at this time.
One such vendor is
Cato Networks
, which offers a fully baked SASE solution and has been identified as one of the leaders in the SASE game by Gartner.
SASE differs significantly from the VPN and ZTNA models by leveraging a native cloud architecture that is built on the concepts of
SD-WAN
(Software-Defined Wide Area Network). According to Gartner, SASE is an identity-driven connectivity platform that uses a native cloud architecture to support secure connectivity at the network edge that is globally distributed.
SASE gives organizations access to what is essentially a private networking backbone that runs within the global internet. What's more, SASE incorporates automated failover, AI-driven performance tuning, and multiple secure paths into the private backbone.
SASE is deployed at the edge of the network, where the LAN connects to the public internet to access cloud or other services. And as with other SD-WAN offerings, the edge has to connect to something beyond the four walls of the private network.
In Cato's case, the company has created a global private backbone, which is connected via multiple network providers. Cato has built a private cloud that can be reached over the public internet.
SASE also offers the ability to combine the benefits of SDP with the resiliency of an SD-WAN, without introducing any of the shortcomings of a VPN.
Case in point is Cato's Instant Access, a clientless connectivity model that uses a Software-Defined Perimeter (SDP) solution to grant secure access to cloud-delivered applications for authorized remote users.
Instant access offers multi-factor authentication, single sign-on, least privileged access, and is incorporated into the combined networking and security stacks. Since it is built on SASE, full administrator visibility is a reality, as well as simplified deployment, instant scalability, integrated performance management, and automated failover.
Cato Networks' Remote Access Product Demo
In Cato's case, continuous threat protection keeps remote workers, as well as the network, safe from network-based threats. Cato's security stack includes NGFW, SWG, IPS, advanced anti-malware, and Managed Threat Detection and Response (MDR) service. Of course, Cato isn't the only player in the SASE game; other vendors pushing into SASE territory include Cisco, Akamai, Palo Alto Networks, Symantec, VMWare, and Netskope.
SASE Address the Problems of VPNs, ZTNA -- and More
With VPNs coming up short and ZTNA lacking critical functionality, such as ease of scale and performance management, it is quickly becoming evident that CISOs may need to take a long hard look at SASE.
SASE addresses the all too common problems that VPNs are introducing into a rapidly evolving remote work paradigm, while still offering the application-centric security that ZTNA brings to the table.
What's more, SASE brings with it advanced security, enhanced visibility, and reliability that will go a long way to improving continuity, while also potentially lowering costs.