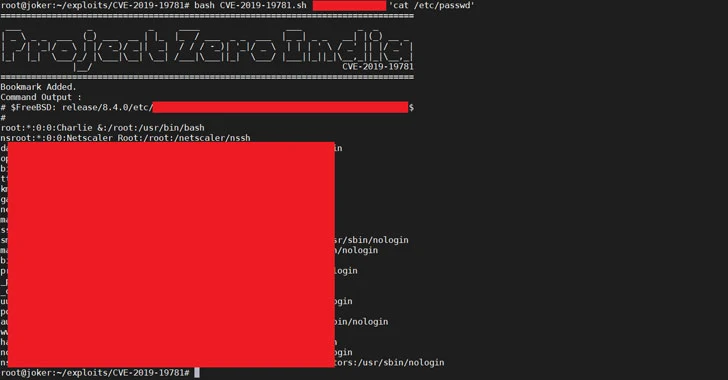 It's now or never to prevent your enterprise servers running vulnerable versions of Citrix application delivery, load balancing, and Gateway solutions from getting hacked by remote attackers.
Why the urgency? Earlier today, multiple groups publicly released weaponized proof-of-concept exploit code [
1
,
2
] for a recently disclosed remote code execution vulnerability in Citrix's NetScaler ADC and Gateway products that could allow anyone to leverage them to take full control over potential enterprise targets.
Just before the last Christmas and year-end holidays, Citrix
announced
that its Citrix Application Delivery Controller (ADC) and Citrix Gateway are vulnerable to a critical path traversal flaw (CVE-2019-19781) that could allow an unauthenticated attacker to perform arbitrary code execution on vulnerable servers.
Citrix confirmed that the flaw affects all supported version of the software, including:
Citrix ADC and Citrix Gateway version 13.0 all supported builds
Citrix ADC and NetScaler Gateway version 12.1 all supported builds
Citrix ADC and NetScaler Gateway version 12.0 all supported builds
Citrix ADC and NetScaler Gateway version 11.1 all supported builds
Citrix NetScaler ADC and NetScaler Gateway version 10.5 all supported builds
The company made the disclose without releasing any security patches for vulnerable software; instead,
Citrix offered mitigation
to help administrators guard their servers against potential remote attacks⁠—and even at the time of writing, there's no patch available almost 23 days after disclosure.
Through the cyberattacks against vulnerable servers were
first seen in the wild
last week when hackers developed private exploit after reverse engineering mitigation information, the public release of weaponized PoC would now make it easier for low-skilled script kiddies to launch cyberattacks against vulnerable organizations.
According to
Shodan
, at the time of writing, there are over 125,400 Citrix ADC or Gateway servers publicly accessible and can be exploited overnight if not taken offline or protected using available mitigation.
While discussing
technical details
of the flaw in a blog post published yesterday, MDSsec also released a video demonstration of the exploit they developed but chose not to release it at this moment.
Besides applying the recommended mitigation, Citrix ADC administrators are also advised to monitor their device logs for attacks.