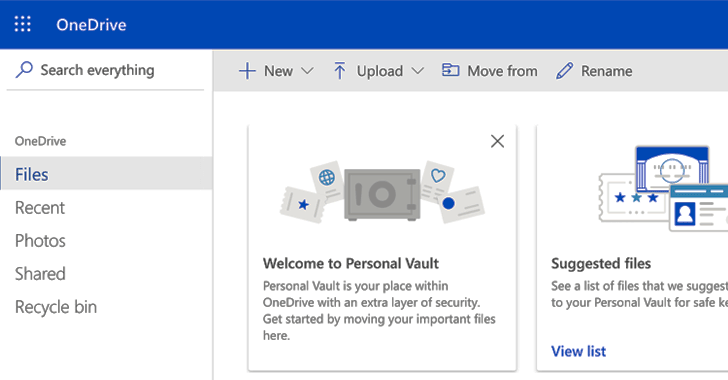 Microsoft has introduced a new password-protected folder within its OneDrive online file storage service that will allow you to keep your sensitive and important files protected and secured with an extra layer of authentication.
Dubbed
Personal Vault
, the new OneDrive folder can only be accessed with an additional step of identity verification, such as your fingerprint, face, PIN, or a two-factor authentication code sent to you via email or SMS.
The Personal Vault folder will appear next to other folders in the OneDrive app like your Documents and Pictures, but it will be locked and prompt you for an additional code each time you try to access them via the web, PC, or mobile devices, thus keeping them more secure in the event when someone gains access to your account or your device.
Microsoft
suggests
this new protected area in OneDrive would be useful for users to store more sensitive and personal files like copies of passport, tax, car or home documents, identification cards, and financial information, for instance.
To instantly store your files in the Personal Vault folder, all you need to do is scan in your documents directly into your Personal Vault through the OneDrive app. You can even take pictures and shoot videos with OneDrive and send them straight to Personal Vault.
You can store as many files you want in the Personal Vault folder, up to your overall OneDrive storage limit. Microsoft is also increasing OneDrive's base storage plan from 50GB to 100GB at no additional cost.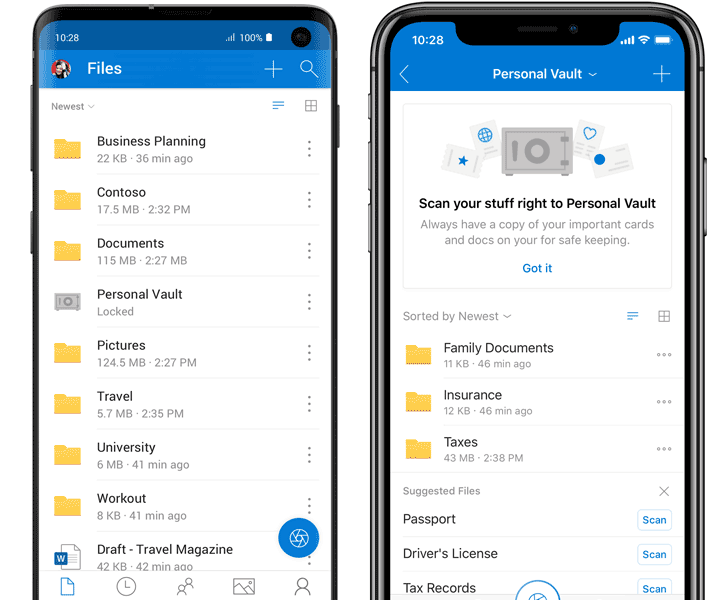 Personal Vault, by default, includes all protections that OneDrive currently offers, including file encryption "at rest" in Microsoft's cloud and in transit to a device, ransomware protection, mass file deletion and recovery, suspicious activity monitoring, virus scanning on download for known threats, and version history for all file types.
In addition, when the OneDrive app syncs your Personal Vault files to your computer, it directly stores those files to a BitLocker-encrypted area of your local hard drive on your Windows 10 computer, instead of any regular folder.
"For further protection on mobile devices, we recommend that you enable encryption on your iOS or Android device," Microsoft says. "Together, these measures help keep your files protected even if your Windows 10 PC or mobile device is lost, stolen, or someone gains access to it."
What's more? After a period of inactivity (3 minutes on mobile devices and 20 minutes on the web or local hard drive by default), the Personal Vault will automatically relock, and you'll have to reauthenticate to gain access again.
Moreover, if you try to access OneDrive remotely through a web browser on an unfamiliar PC, the browser will not save your files within the Personal Vault in its cache.
Microsoft is making the OneDrive Personal Vault feature available to the web version of its OneDrive, Windows 10 PCs, as well as the iOS and Android mobile apps.
OneDrive Personal Vault is currently only rolling out in Australia, New Zealand, and Canada, though the company will make it available to all markets by the end of the year.