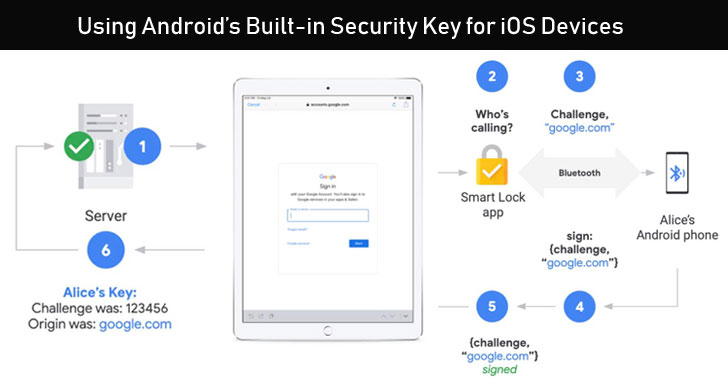 In April this year, a software update from Google overnight
turned all Android phones
, running Android 7.0 Nougat and up, into a FIDO-certified hardware security key as part of a push to encourage two-step verification.
The feature made it possible for users to confirm their identity when logging into a Google account more effortless and secure, without separately managing and plugging-in a Yubico's YubiKey or
Google's Titan key
.
"FIDO security keys provide the strongest protection against automated bots, bulk phishing, and targeted attacks by leveraging public key cryptography to verify your identity and URL of the login page, so that an attacker can't access your account even if you are tricked into providing your username and password," Google
said
.
Android's security key feature until now was only compatible with Bluetooth-enabled Chrome OS, macOS, or Windows 10 devices over the Chrome browser.
However, the latest update from Google now allows users to verify their sign-in on Apple iOS-powered iPad and iPhone devices as well.
"Until now, there were limited options for using FIDO2 security keys on iOS devices. Now, you can get the strongest 2SV method with the convenience of an Android phone that's always in your pocket at no additional cost, Google said."
To enable this feature on iOS devices running iOS version 10.0 or up, users have to separately install
Google's Smart Lock app
from Apple's app store.
Check out Google's
blog post
to learn how to enable this feature.