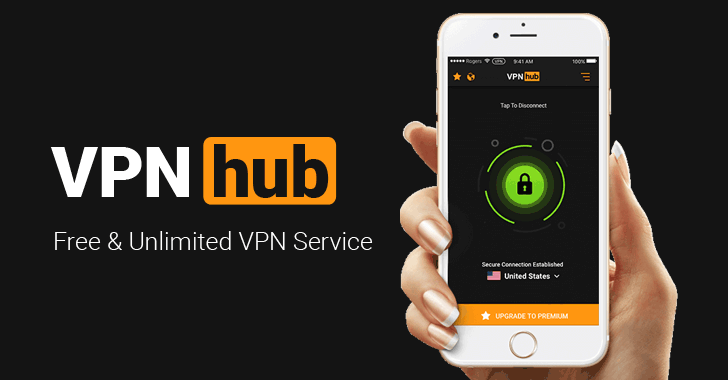 Pornhub wants you to keep your porn viewing activities private, and it is ready to help you out with its all-new safety and privacy free VPN service.
Yes, you heard that right.
Adult entertainment giant Pornhub that allows porn videos download has launched its very own free VPN service today with "unlimited bandwidth" to help you keep prying eyes away from your browsing activity.
Dubbed VPNhub, the VPN service by Porn Hub and developed by AppAtomic, is available for both mobile as well as desktop platform, including Android, iOS, MacOS, and Windows.
VPN, or Virtual Private Network, hides IP address, allows users to transmit data anonymously, avoids ISP-level website blocking or tracking and keeps your internet connections ans browsing activity private by encrypting your data, even when you are on public Wi-Fi connections.
Isn't it the great reason to use a VPN? Of course, Yes.
Pornhub App Launches Fast VPN Service
Like Hotspot shield and others, Pornhub's new VPN services will also allow users a secure way to mask their online activity and also packs all the most important security features that a VPN app should.
Pornhub promises never to store, collect, sell, or share your personal information with any third parties for their marketing, advertising or research purposes.
However, in its
privacy policy
under the heading, "How We Use Your Information," the company says it can sell "aggregate or non-personally identifiable information with non-affiliated third parties for advertising, marketing or research purposes."
Since some government, including that of the United Kingdom, are regulating adult content online, launching a VPN service by videos download website Pornhub makes sense.
Pornhub's VPN service is available in countries across the globe except for Burma/Myanmar, Cuba, Iran, North Korea, Sudan, and Syria, due to the ban imposed by the U.S. government.
While mobile users (both iOS and Android) can download and use the VPNhub pornhub app for free, desktop users (MacOS and Windows) have to purchase a premium account.
Free Pornhub users can only connect to a server in Los Angeles, but Premium users have access to VPN servers located in 13 countries around the world.
To get started, you have to download the Pornhub app on your mobile device and then tap setup. You can then open your browser of choice and surf the Web securely.
You can also upgrade your free account to a premium subscription for $13 a month or $90 for a full year, which eliminates ads, provides faster connection speeds, and opens up "servers from a wide range of countries."
We detected no IP leaks when testing the app. Instead of using Pornhub proxy, you can also give Pornhub
VPNhub
a try with its 7-day free trial.
Pornhub also supports cryptocurrencies, allowing users to easily make anonymous payments to the service and soon adding more features.
If you are looking for an excellent, secure, but cheap VPN service to start with, we have featured some best deals on our store as well, offering
lifetime access to best VPN services
at highly discounted prices.