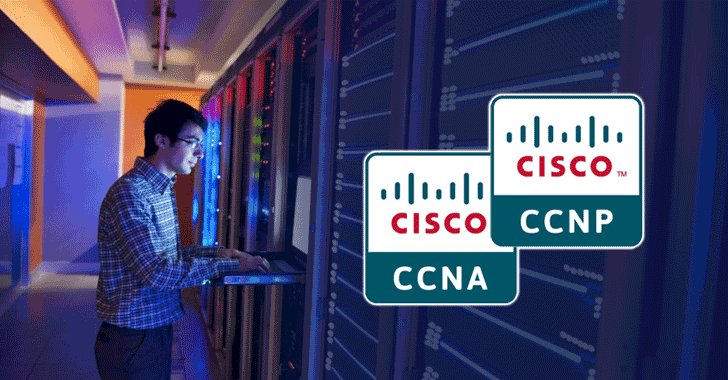 As governments and enterprises migrate toward controller-based architectures, the role of a core network engineer are evolving and more important than ever.
There is a growing number of jobs in Networking, but if you lack behind, you need to pass some certification exams to enter into this industry and get a significant boost in your IT career.
If you are looking forward to making career advancement in Networking, then Cisco Certifications — CCNA and CCNP — are one of the most highly reputed entry-level networking certifications in the industry.
While CCNA, or Cisco Certified Network Associate, is for entry-level network engineers to maximise their foundational networking knowledge, CCNP or Cisco Certified Network Professional is intended for professionals to implement, maintain and plan Cisco's wide range of high-end network solution products.
But how long have you wanted to take CCNA and CCNP training classes to achieve the certifications, only to realise the cost is simply too high?
The good news for you is that this week's THN Deal Store brings
Cisco Certified Network Associate (CCNA) & Professional (CCNP) Certification Training
that let you get started regardless of your experience level.
Cisco Certified Network Associate (CCNA) & Professional (CCNP) Certification Training offers five comprehensive courses, including:
Cisco 100-105 Interconnecting Cisco Networking Devices Part 1 (ICND1 V3)
Cisco 200-105 Interconnecting Cisco Networking Devices Part 2 (ICND2 V3)
Cisco 300-115 SWITCH - Implementing Cisco IP Switched Networks
Cisco 300-135 TSHOOT - Troubleshooting And Maintaining Cisco IP Networks
Cisco 300-101 ROUTE - Implementing Cisco IP Routing
These 5 Cisco training that will help you learn how to install configure, operate, and troubleshoot medium-size routed and switched networks, as well as local and wide-area enterprise networks.
WEBINAR
Discover the Hidden Dangers of Third-Party SaaS Apps
Are you aware of the risks associated with third-party app access to your company's SaaS apps? Join our webinar to learn about the types of permissions being granted and how to minimize risk.
RESERVE YOUR SEAT
The online training courses will teach you how to manage and optimize network systems, focus on network infrastructure, including routing, switching, wireless access, security, and connectivity to branch offices using WAN.
Cisco Certified Network Associate (CCNA) & Professional (CCNP)
Certification Training
will also help you develop skills required to work on advanced security, voice, wireless, and video solutions, as well as prepare you enough to earn your CCNA and CCNP certifications.

Join Cisco CCNA, CCNP Certification Training
Cisco CCNA and CCNP Certification Training
usually costs $1,495, but you can get this ultimate course for just $55 (after 96% discount) at the
THN Deals Store
.