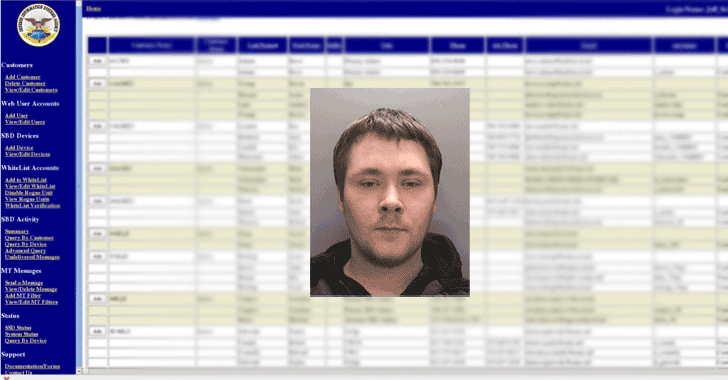 A British computer hacker who allegedly hacked a United States Department of Defense satellite system in 2014 and accessed the personal information of hundreds of military personnel has pleaded guilty on Thursday.
Sean Caffrey, a 25-year-old resident of Sutton Coldfield in the West Midlands, has admitted to breaking into a US military communications system in June 2014 and stealing usernames and email addresses of over 800 employees and data from 30,000 satellite phones, the UK's National Crime Agency
announced
on Thursday.
The UK authorities arrested Caffrey in March 2015 after they traced back the hack to his home IP address, which indicates the hacker did not use any anonymity service, such as VPN, proxy or Tor, to hide its track.
The NCA officials also discovered that an online messaging account linked to the Pentagon satellite system attack was opened and operated from Caffrey's computer.
After a forensic examination of his seized computers, the investigators discovered the stolen data related to the United States DoD satellite on the hard drives.
However, the U.S. government did not say exactly how Caffrey successfully carried out the hack.
According to the NCA's March 2014
press release
, evidence of the DoD breach was shared on Pastebin (
which is still online
) along with a text message referencing
Lizard Squad
, a hacking group that's responsible for many high-profile attacks, including
Xbox Live and PlayStation
.
"ISIS WARRIORS UNVEIL - We smite the Lizards, LizardSquad your time is near. We're in your bases, we control your satellites," the Pastebin post read. "The missiles shall rein upon thy who claim alliance, watch your heads. TOP THE AIR-STRIKES OR WE WILL DO AS YOU DO! "
Caffrey pleaded guilty at Birmingham Crown Court Thursday to one offense under the Britain's anti-hacking law, the Computer Misuse Act.
According to the U.S. Defence Department, the breach cost the Pentagon about $628,000 to fix the damages caused by the Caffrey's intrusion.
"After strong partnership working between the NCA, the FBI and the DoD's Defense Criminal Investigative Service there was very clear, very compelling evidence against Sean Caffrey," said Janey Young, investigations manager at the NCA.
"No one should think that cyber crime is victimless or that they can get away with it. The NCA has people with skills like Caffrey's, but they're doing the opposite to him in detecting cyber criminals and bringing them to justice."
The FBI and the Department of Defense collaborated in the investigation with the UK officials.
Caffery is scheduled to appear before the judge for sentencing on 14 August.