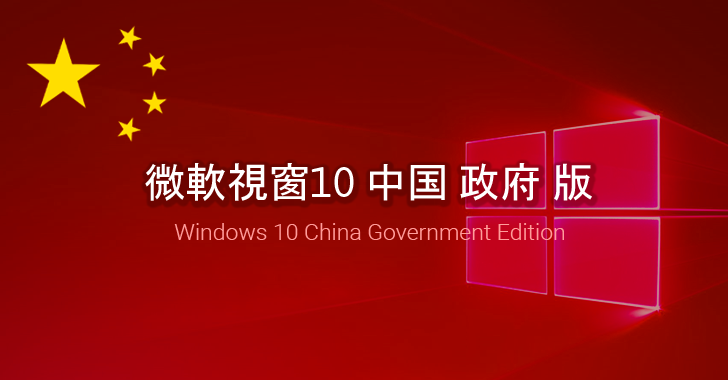 China is very strict about censorship, which is why the country has become very paranoid when it comes to adopting foreign technologies.
The country
banned Microsoft's Windows operating system
on government computers in 2014 amid concerns about security and US surveillance.
Even in the wake of that, China had been pushing its
custom version of Windows XP
and its forked version of
Ubuntu Linux
.
To deal with this issue and target the world's largest market, Microsoft's CEO for the Greater China region last year confirmed that the company was working on a
Chinese version of Windows 10
that included "more management and security controls" and less bloatware.
Now, Microsoft has just announced a new version of its Windows 10, which is now ready for Chinese government agencies to use.
In its event in Shanghai on Tuesday, Microsoft
announced
Windows 10 China Government Edition
specifically designed for the Chinese government.The OS is based on Windows 10 Enterprise Edition, but with a few tweaks to keep Chinese officials happy.
Windows 10 Enterprise Edition already provides several security, identity, and manageability features governments and enterprises need, but Windows 10 China Government Edition will let the country use the management feature to monitor and deploy updates as needed, manage telemetry, and use its own encrypted algorithms.
Designed to work with Chinese Encryption Algorithms
Microsoft enables the Chinese government to use its own encrypted algorithms in its Windows 10 China Government Edition in order to secure data that they do not want others to see.
Allows to Remove Unwanted Apps
The Chinese version of Windows 10 does not allow access to features that are not needed by Chinese government employees like Microsoft's OneDrive service that let people store their documents and files on Microsoft-controlled data centers.
Apparently, the Chinese officials don't want anyone to access their data, so they will keep their data locked down on their own computers in an attempt to have full control over it.
Manage Telemetry Data Collection & Updates
The
last year's outcry
over Microsoft's silent
slurping of telemetry data
from users' computers might have made the Chinese officials ask for the control over telemetry of its China version of Windows, preventing Microsoft to collect data on its citizen.
So basically, all Windows 10 users around the world do not have any option to turn off telemetry, but the Chinese government could do so.
"For more than two decades, Microsoft has had the distinct honor to work in China, learning and advancing technology together," executive vice president Terry Myerson writes on the Windows 10 Blog.
"Over the last two years, we have earnestly cooperated with the Chinese government on the security review of Windows 10. The Chinese government has the highest standards for security."
A release date for the Windows 10 China Government Edition have not yet announced, but three Chinese government groups have already announced their plans to adopt Windows 10 China Government Edition.
These three government groups are China Customs, Westone Information Technology and the City of Shanghai on the national, state-owned and regional enterprise levels, respectively.
Besides this, Lenovo has also announced its plans to be the first OEM partner to have devices that come preinstalled with Windows 10 China Government Edition.