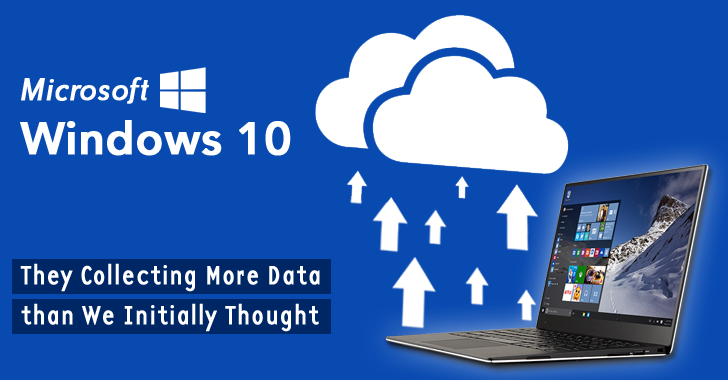 After several controversial
data mining
and
privacy invasion
features within Microsoft's newest operating system, Microsoft continued convincing its users that Windows 10 is not spying on anyone and that the company is not collecting more data than it needs.
Microsoft Tracks Your Every Move
Here's the list of milestones that Microsoft just achieved:
People spent over 11 Billion hours on Windows 10 in December 2015.
More than 44.5 Billion minutes were spent in Microsoft Edge across Windows 10 devices in December alone.
Windows 10 users asked Cortana over 2.5 Billion questions since launch.
About 30 percent more Bing search queries per Windows 10 device compared to prior versions of Windows.
Over 82 Billion photographs were viewed in the Windows 10 Photo application.
Gamers spent more than 4 Billion hours playing PC games on Windows 10 OS.
Gamers streamed more than 6.6 Million hours of Xbox One games to Windows 10 PCs.
Maybe Microsoft listed these statistics in order to illustrate just how popular its newest operating system has become, but what the company missed is:
Microsoft itself admitted that how deeply it is tracking Windows 10 users.
First
noticed
by Martin Brinkmann of gHacks, these statistics clearly indicate that Microsoft is not only keeping itself updated about the Windows 10 installation on different devices but is also tracking every single activity of its users by collecting more data than initially thought.
Playing a game? Microsoft tracks it.
Asking Cortana a question? Microsoft tracks it.
Opening Edge browser? Microsoft tracks it, too.
"While it is unclear what data is exactly collected," Brinkmann says, "it is clear that the company is collecting information about the use of individual applications and programs on Windows at the very least."
This is the actual dirty side of the free Windows 10 upgrade that we many times talk about, and with time, it will be more shocking to you because the most worrisome part of Windows 10 is that there's no easy way to turn this data collection off.