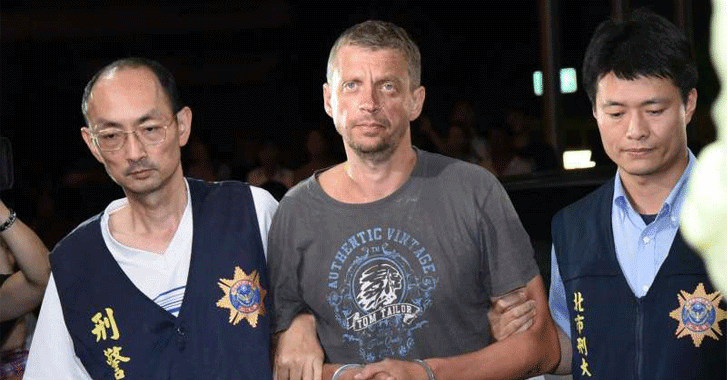 Law enforcement authorities from Europe and Russia have arrested five members of an international cyber criminal gang for stealing $3.2 million cash from ATMs using malware.
Three of the suspects, Andrejs Peregudovs (41), of Latvia, Niklae Penkov (34) of Moldova, and Mihail Colibaba (30) of Romania, were arrested in Taiwan by the Taiwanese Criminal Investigation Bureau last summer, have already been
sentenced
to 5 years in prison for their role in a massive ATM heist operation, involving
22 individuals
from 6 countries.
The European-based cyber criminal gang used a variety of different hacking techniques to infect ATMs with malware and force them to dispense cash.
According to Europol that began its investigation in early 2016, the gang used spear-phishing emails containing malicious attachments to target bank employees and penetrate the bank's internal networks.
From there, the cyber crooks then located and hacked into the network of ATMs from the inside, and used a malicious software program to delete almost all traces of their activities.
However, three suspects have already been arrested convicted, one has been arrested by the Romanian National Police, and one arrest has been made by the Belarusian Central Office of the Investigative Committee.
Europol estimates the five arrested suspects caused damages to banks of around $3.2 Million, although in some cases,the stolen money was partially recovered from the criminals after the cashing-out.
The ruling three of them will be deported back to their home countries, when their jail terms will end.
Here's the statement by Steven WILSON, Head of Europol's European CyberCrime Centre (EC3):
"The majority of cyber crimes have an international dimension, taking into account the origins of suspects and places where crimes are committed. Only through a coordinated approach at the global level between law enforcement agencies can we successfully track down the criminal networks behind such large-scale frauds and bring them to justice."
Europol did not provide names of any of the five criminals arrested, but has credited the success of its investigation to international cooperation by police across the world.
Europol's European CyberCrime Centre (EC3) assisted the investigation by organizing operational meetings in Europe and Asia, providing analytical support, as well as analyzing the seized data and equipment.