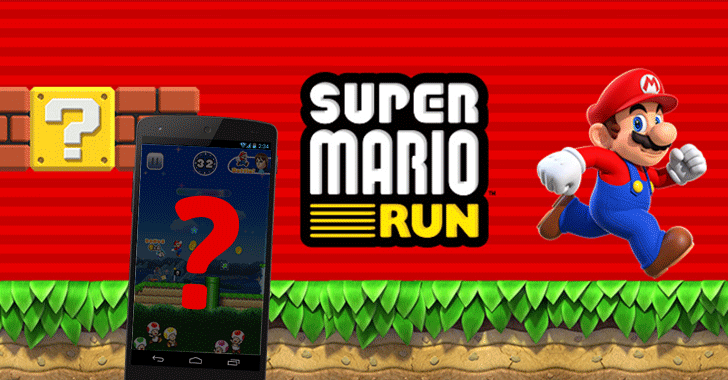 After the success of
Pokémon Go
, Nintendo's "
Super Mario Run
" has become the hottest game to hit the market with enormous popularity and massive social impact. The game has taken the world by storm since its launch for iOS devices over a week ago.
Can you believe
—
it was downloaded more than 40 million times worldwide in its first four days of release.
But if you have downloaded a Super Mario Run APK for your Android device, Beware! That's definitely a malware.
Since Super Mario Run has currently been released only for iOS devices and is not on Google Play, it caused a lot of disappointment among Android users.
So, eventually, many Android device owners who love Mario games and can not wait to play Super Mario Run ended up downloading APKs outside of the Google Play Store.
But those tons of phony copycat unofficial Super Mario apps on many third-party Android app stores turn out to be malware or viruses that attempt to look like the legitimate Super Mario Run app.
Super Mario can Take Full Control of your Android Device
To download the third party APK, users are required to "side-load" the malicious app by modifying their Android core security settings, allowing their device's operating system to install apps from "untrusted sources."
Some of these malicious apps can even take full control of your Android device, as the apps request privileges to edit, read, receive and send text messages, take photos and record videos and track your location using GPS.
However, one of the apps titled "Super Mario" creates additional icons, displays pop-up and banner ads, installs other malicious apps onto victim's smartphone, and performs other intrusive activities without any users interaction, according to Tokyo-based Trend Micro antivirus firm, which
detected
malicious Super Mario apps 90,000 times this year.
"Clicking on these ads or icons will direct users to either adult sites or malicious sites. In either case, the goal is to get users to install various apps," researchers at Trend Micro writes.
"While some of these apps are perfectly legitimate, some are suspicious apps distributed by third-party app stores, including more malicious apps that even request for administrator rights."
Another app, also titled "Super Mario" and discovered by the security firm, prompts users first to install an app called 9Apps, which then asks for more permissions, including recording audio, reading modifying the calendar and even access to complete SD-card.
Here's How to Prevent Yourself
So, instead of downloading applications from unknown third party stores, Android users are required to wait for the official Google Play release.
Downloading apps from third parties do not always end up with malware or viruses, but it certainly ups the risk. So, it's the best way to wait to avoid compromising your device and the networks it accesses.
You can also go to Settings → Security and make sure "Unknown sources" option is turned off.