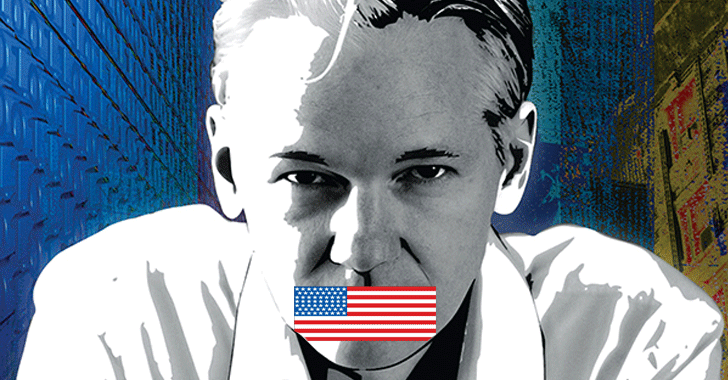 Early Monday, Whistleblowing site WikiLeaks tweeted that the internet connection of its co-founder, Julian Assange, was
intentionally cut down
, for which it blamed an unidentified "
state party
."
But most surprisingly, it was Ecuador who was behind the act.
WikiLeaks has confirmed that its founder
Julian Assange
's Internet access was cut down in its London embassy by the government of Ecuador on Saturday.
The move was in response to the organization's publication of another batch of leaked emails related to US presidential candidate Hillary Clinton.
"We can confirm Ecuador cut off Assange's internet access Saturday, 5 pm GMT, shortly after [the] publication of Clinton's Goldman Sachs [speeches]," WikiLeaks tweeted.
Assange has been living in Ecuador's London embassy since June 2012, when he was granted asylum by the Ecuador government after a British court ordered his extradition to Sweden to face questioning on a rape allegation.
Assange fears that if extradited to Sweden, he would eventually be extradited to the United States, where he is facing federal charges for his role in obtaining and publishing classified information.
The Ecuadorian government offered no immediate comment on the question of internet access, but a source at the Ecuadorian Ministry in Ecuador told the Press Association:
"Ecuador will continue to protect Julian Assange and uphold the political asylum granted to him in 2012."
It all started last week when the anti-secrecy group
released
three transcripts of Mrs. Clinton's paid speeches to Goldman Sachs, which the Democratic National Committee (DNC) campaign had long refused to release.
The leak revealed that in Goldman Sachs conference, Clinton said she would like to intervene secretly in Syria.
WikiLeaks Posted New Series of Leaked Emails
WikiLeaks has posted and promoted
hacked Democratic Party material
in past few months. While the organization denied any connection with a Russian hacking group, Assange has refused to disclose the sources for
hacked DNC emails
.
According to sources close to both the Democratic Party and WikiLeaks, the anti-secrecy group has acquired between 40,000 and 50,000 emails hacked from the personal accounts of Hillary Clinton's campaign manager John Podesta.
Despite the fact that Assange's Internet connection was cut, WikiLeaks
published
on Monday afternoon what the organization claimed was a fresh batch of Podesta's emails.
Clinton has been hit with new allegations of corruption, according to the new leaks, which suggested one of her close aides tried to force the FBI to change the classification level of one of her emails while the federal agency was investigating her.
Well, let's see what comes next.